Leading fiber internet service provider Converge ICT Solutions Inc. has been hailed as the winner of the Ookla® Speedtest Award™ for *Best ISP Video Experience in the Philippines for the second half of 2022 after it finished at the top with an overall 80.99 video score, reflective of the results of consumer-initiated scoring during a six-month period. The video scoring, which ranges from 0 to 100, rates users' video experiences.
Ookla, the company behind the semi-annual Speedtest Awards, is the global leader in mobile and broadband network intelligence, testing applications, and related technologies. The consumer-driven company has been setting the benchmark for internet speeds and performance expectations around the world and aims to continually empower consumers through its platforms by understanding their provider's service to optimize their internet usage experience.
Five key categories were considered in determining the Ookla Best ISP Video Experience in the Philippines awardee: adaptive start failure (the proportion of tests that failed to start), median adaptive start time (the time to first frame of video playback), median adaptive average bitrate (low bitrate means user experiences a fuzzy, low resolution video while a higher bitrate supports better viewing experience), adaptive stall events (the proportion of users with at least one stall event) and lastly, media adaptive stall severity (users who experience stalling event). Converge topped all other internet service providers in the Philippines in all five criteria areas.
"Filipinos have spoken, and we have emerged as the ISP giving the superior video experience to them. This speaks for itself: our high speed, high capacity internet produces the best experience in streaming and consuming video content whether for gaming or entertainment. This is a mark of excellence in service for us," said Dennis Anthony Uy, CEO and Co-Founder of Converge.
Converge has been a consistent performer in Ookla®'s consumer-initiated ratings, winning Most Consistent Network across five regions in the last quarter of 2021 and being crowned the Top Rated Fixed Network for the first half of 2022. The company also topped video streaming giant Netflix's ISP Speed Index in December 2022, proving its steady No. 1 ranking in Netflix's monthly speed index for most of 2022.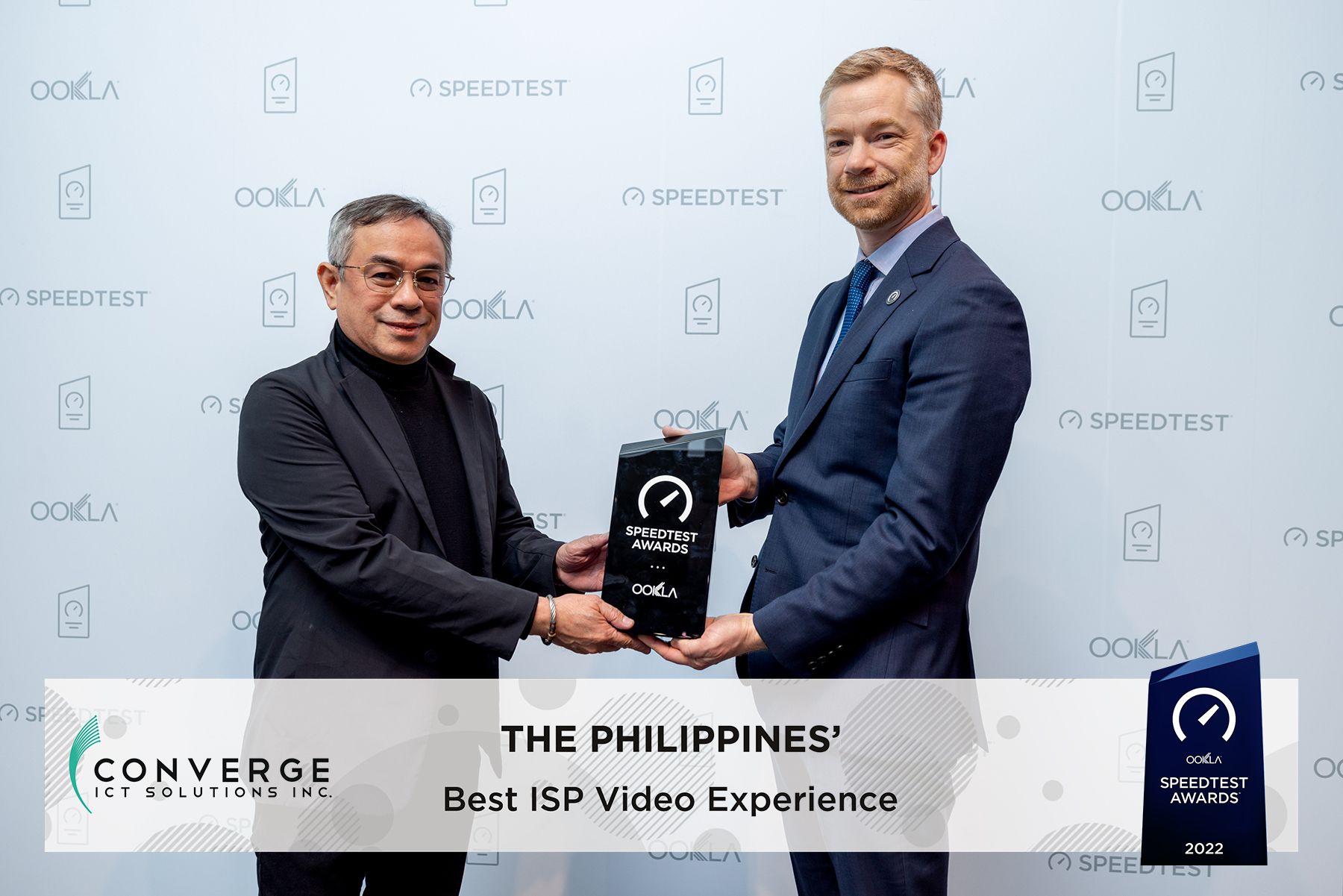 Converge Chief Technology Officer Ronald Brusola received the Ookla® Speedtest Award™ for Best ISP Video Experience in The Philippines trophy at the Mobile World Congress 2023 in Barcelona. The award is a celebration of the exceptional network performance by Converge, as experienced by the customers.
Last November, Converge upgraded its suite of connectivity plan offers, doubling the speed of its base plan from 100 Mbps to 200 Mbps at no extra cost and still offering unlimited bandwidth with no data caps. The company is the first and only internet service provider in the Philippines to upgrade its network backbone data transmission capacity to 800 Gbps, making it possible to facilitate high-speed data transfers that are vital for streaming.
Streaming live videos can consume a significant amount of bandwidth, but the company's FiberX base plan allows its users to play their online games and stream their 4K videos on their Ultra HD-enabled devices where at least 25 Mbps is required. With the 200Mbps offering, Converge aims to provide an optimal viewing experience to its subscribers, who will have the luxury of utilizing multiple connections and activities on various devices without lag or interruption.
"Our mission has always been to give Filipinos the best digital experience. Winning this award attests to our hard work of continuously upgrading and expanding our network and diversifying our products and services," Converge Chief Operations Officer Jesus C. Romero said. "This award confirms the value of our end to end network design objective to implement and operate a network that is high availability, low latency and non-blocking. Video applications whether video streaming or video conferencing are very susceptible to network quality issues such latency, packet loss and jitter. This award, based on user generated tests, is a firm validation of the end-to-end, overall quality of our network. Technology at work to provide the best possible customer experience!"
#ExperienceBetter with the leading fiber internet provider in the Philippines, Converge ICT Solutions Inc. Visit www.convergeict.com for more details.
*Based on analysis by Ookla® of Speedtest Intelligence® data for Q3–Q4 2022. Ookla trademarks are used under license and reprinted with permission.