Metro Pacific Investments Corporation's (MPIC) mWell continues to blaze trails in digital healthcare globally as it was named the winner of two Gold Stevie® Awards in the Innovation in Health & Wellness and Most Innovative Startup of the Year- Business Service Industries categories in the 10th annual Asia-Pacific Stevie Awards. mWell is the only Philippine entry to bring home the Gold Award in these two categories. Bronze winners include Vietnam, Taiwan, and Australia.
The two Gold Stevie® Awards come at the heels of being chosen as the Best Mobile Innovation for Digital Life in the 2023 Global Mobile (GLOMO) Awards, held during the Mobile World Congress in Barcelona, Spain.
The Asia-Pacific Stevie Awards are the only business awards program to recognize innovation in the workplace in all 29 nations of the Asia-Pacific region. The Stevie Awards are widely considered to be the world's premier business awards, conferring recognition for achievement in programs such as The International Business Awards® for 21 years. Nicknamed the Stevies for the Greek word for "crowned," the winners will be celebrated during a virtual (online) awards ceremony on Tuesday, 27 June.
More than 800 nominations from organizations across the Asia-Pacific region were considered this year in categories such as Award for Excellence in Innovation in Products & Services, Award for Innovative Management, and Award for Innovation in Corporate Websites, among many others. Gold, Silver and Bronze Stevie Award winners were determined by the average scores of more than 100 executives around the world acting as judges in February and March.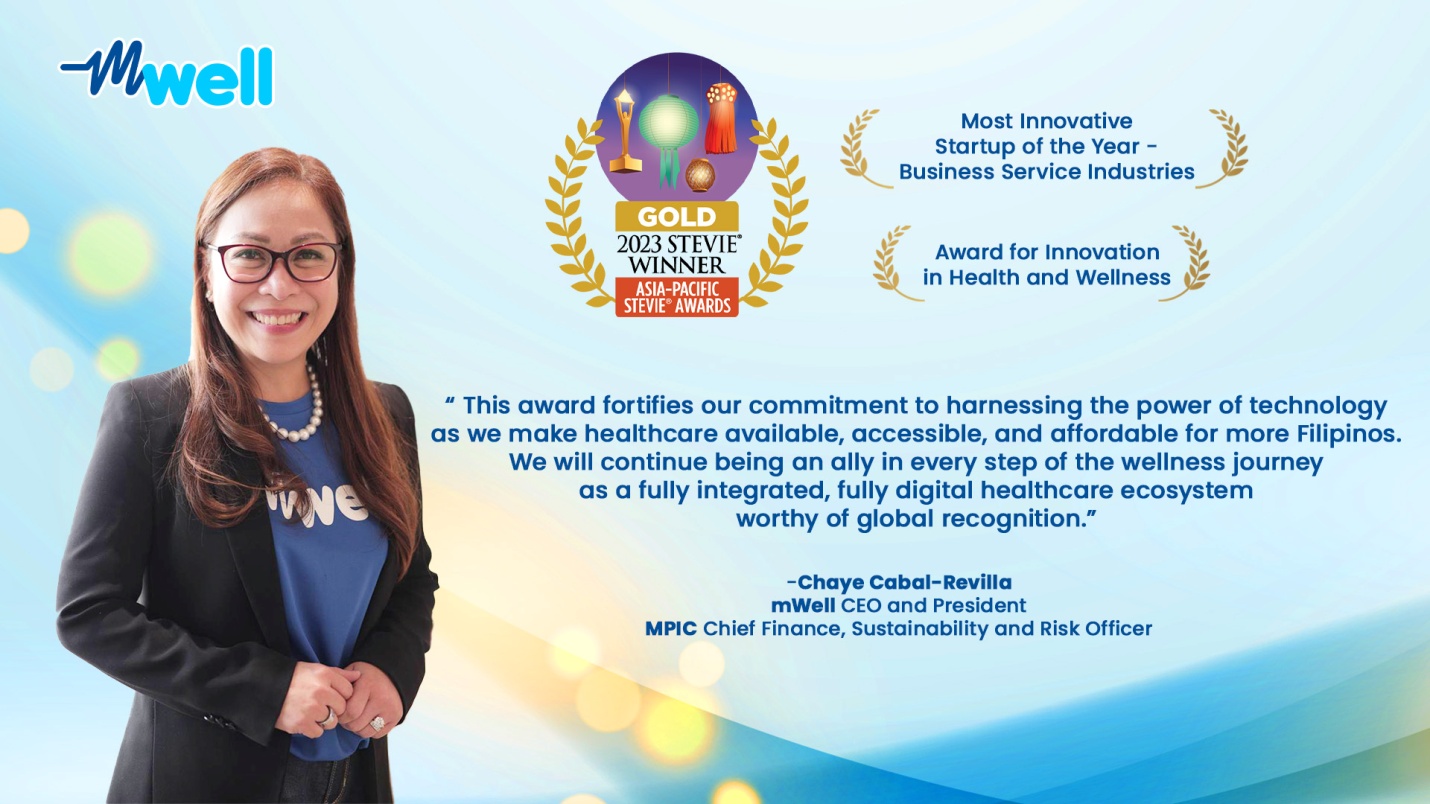 "This recognition is a welcome affirmation of our work in healthcare," says mWell Chairman and MPIC Chairman and CEO Manuel V. Pangilinan. "The goal is to improve the lives of all Filipinos, and this will inspire us to keep pushing boundaries in creating innovative healthcare solutions."
mWell CEO and President and MPIC Chief Finance, Risk, and Sustainability Officer Chaye Cabal-Revilla said "As the Philippines' healthcare mega app, this award fortifies our commitment to harnessing the power of technology as we make healthcare available, accessible, and affordable for more Filipinos wherever they may be in the world. Through our innovative digital solutions, we will continue being an ally in every step of the wellness journey—not just as an app but as a fully integrated, fully digital healthcare ecosystem worthy of global recognition."
"The 10th edition of the Asia-Pacific Stevie Awards attracted many remarkable nominations," said Stevie Awards president Maggie Miller. "The organizations that won this year have demonstrated that they are committed to being innovative, and we applaud them for their perseverance and creativity. We look forward to celebrating many of this year's winners during our virtual awards ceremony on 27 June."
mWell's achievement comes soon after being recognized as the Best Mobile Innovation for Digital Life in the recently concluded 2023 Global Mobile (GLOMO) Awards, held during the Mobile World Congress in Barcelona, Spain. Recognized in the new Digital Everything category, mWell is the first in the Philippines to receive this most prestigious accolade in the mobile industry, judged by more than 200 independent judges from across the world, comprised of leading industry and subject matter experts, analysts, journalists, and academics. It celebrates companies, individuals, and governments who have driven the greatest innovation in mobile and adjacent industries.
The country's fully integrated and fully digital healthcare platform consistently holds its spot among the top health and fitness app in Google Play Store.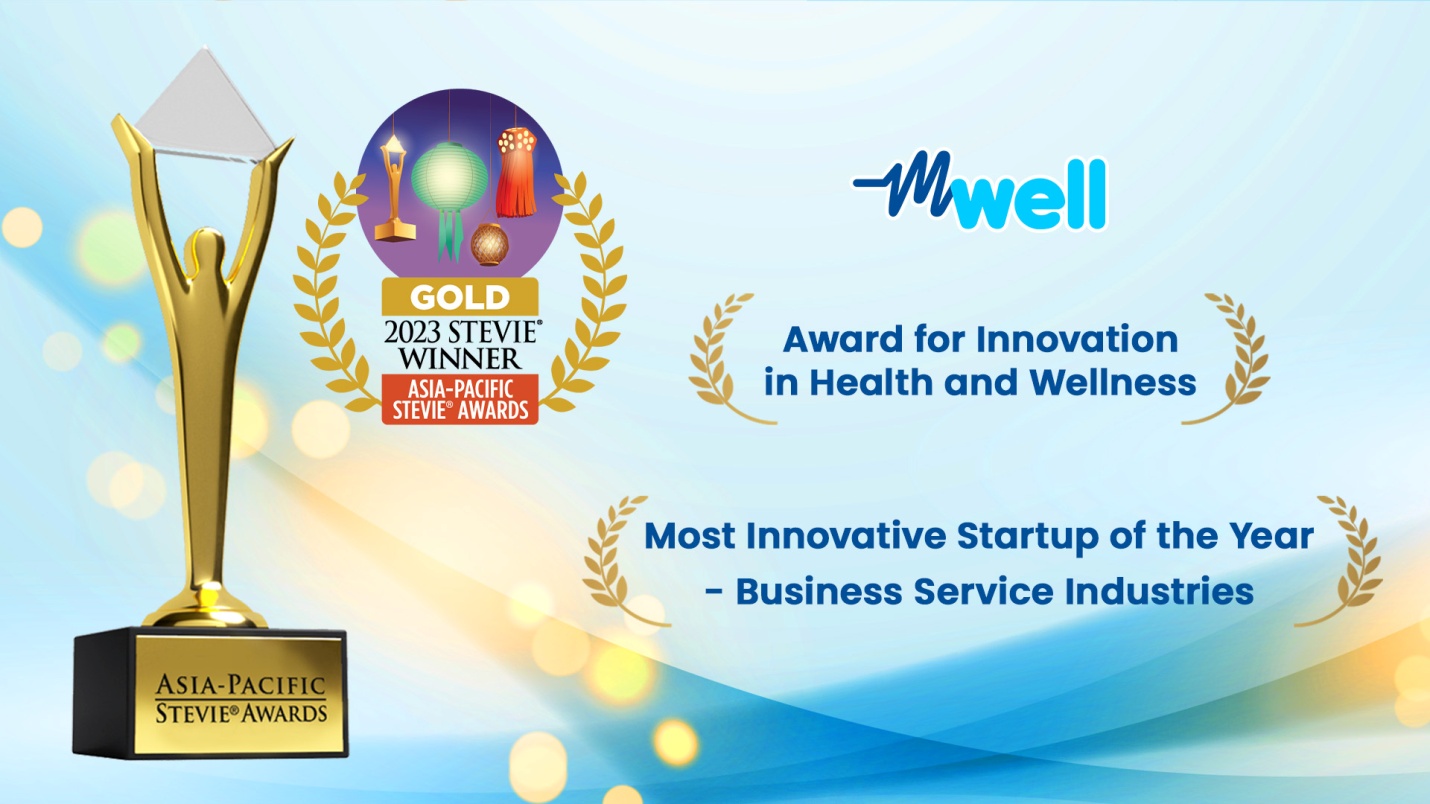 The top health app for telemedicine
An accredited telemedicine partner of the Department of health, mWell has redefined telemedicine in the Philippines via a seamless, fully digital experience. Choosing a doctor, consulting on video (within 3 minutes waiting time), receiving an e-prescription and getting a medical certificate all happen in the app.
Patients may consult online 24/7 with over over 800 Primary Care doctors, specialists, and mind health experts. They can even have their medicines delivered to their doorsteps via MedExpress. Furthermore, mWell provides a digital medical ID which empowers users to keep track of their own personal record which they can easily access. All records are stored in mWell's secure platform.
Top global healthcare app for OFWs
mWell enables the delivery of healthcare services to Overseas Filipino Workers (OFWs) and their families via a partnership with the Department of Migrant Workers. Breaking barriers through digital healthcare, mWell gives over 1.8 million OFWs access to highly-trained Filipino partner-doctors —internal medicine specialists, cardiologists, endocrinologists, ophthalmologists, and more. In just a few taps, they can consult right away with Filipino-speaking doctors, 24/7 or book an appointment at their convenience.
mWell has also made the Healthsavers Plan available globally to Filipino migrant workers who sacrifice being away from families to provide food on the table and education for their children. They may easily send their families the health pass as a gift and allow them to conveniently consult with mWell partner-doctors. The Healthsavers Plan P399 comes with one consultation and free accident insurance worth P20,000.
Top name in wellness
On top of telemedicine, mWell promotes overall wellbeing through preventive healthcare features. mWell is the first and only health app in the PH which allows users to track their health for free using the mWellness Score. Developed by award-winning data scientists, it measures physical health based on daily activities – exercise, light activity, steps, sleep. This serves as a guide to achieving a healthy physical lifestyle for long-term health.
Specialized fitness programs, including diabetes prevention and post-partum exercise designed to assist new moms to get back in shape safely and healthily are also found on the app. Calorie-controlled recipes created by nutritionists are also easily accessible.
mWell is the only healthcare app among the convenor organizations and supporting companies of the GoDigital Pilipinas (GDP) movement. It has truly set the standards in digital healthcare and changed lives through the power of technology. More innovative features will soon be unveiled by the country's first fully integrated, fully digital health and wellness app.
As part of the MPIC Group, mWell is committed to working towards the achievement of the UN's Sustainable Development Goals, particularly SDG 3: Good Health and Well-being. It also supports the MVP Group's Gabay Kalusugan advocacy focusing on quality and affordable healthcare.
Download the mWell PH app from the Apple App Store or Google Play Store and register. Follow mWell on Facebook and mwellph on Instagram for more updates.