Converge ICT Solutions Inc. President and Co-Founder Maria Grace Uy has been given the De La Salle Alumni Association (DLSAA) Lasallian Achievement Award for her outstanding accomplishments and contributions in the field of Information Technology.
The DLSAA Lasallian Achievement Award recognizes alumni who have achieved distinctions in various spheres, including industry, management, profession, avocation, or public service. The awardees are celebrated for serving as exemplary role models for their fellow Lasallians and other Filipinos. "Grace, congratulations. You have made your mark for our country and for our school La Salle. Keep the spirit burning, and spread the word about your La Sallian education," said DLSAA Honors and Awards Committee President and Chair Karl Velhagen.
DLSAA acknowledged Uy for her inspiring representation of women in the highly competitive telecommunications industry and for breaking barriers for Filipino businesswomen globally.
Expressing her gratitude to DLSAA and the university, Uy underlined how the institution has been bringing out the best in students, allowing them to find their voice, explore their passions and strive to better themselves.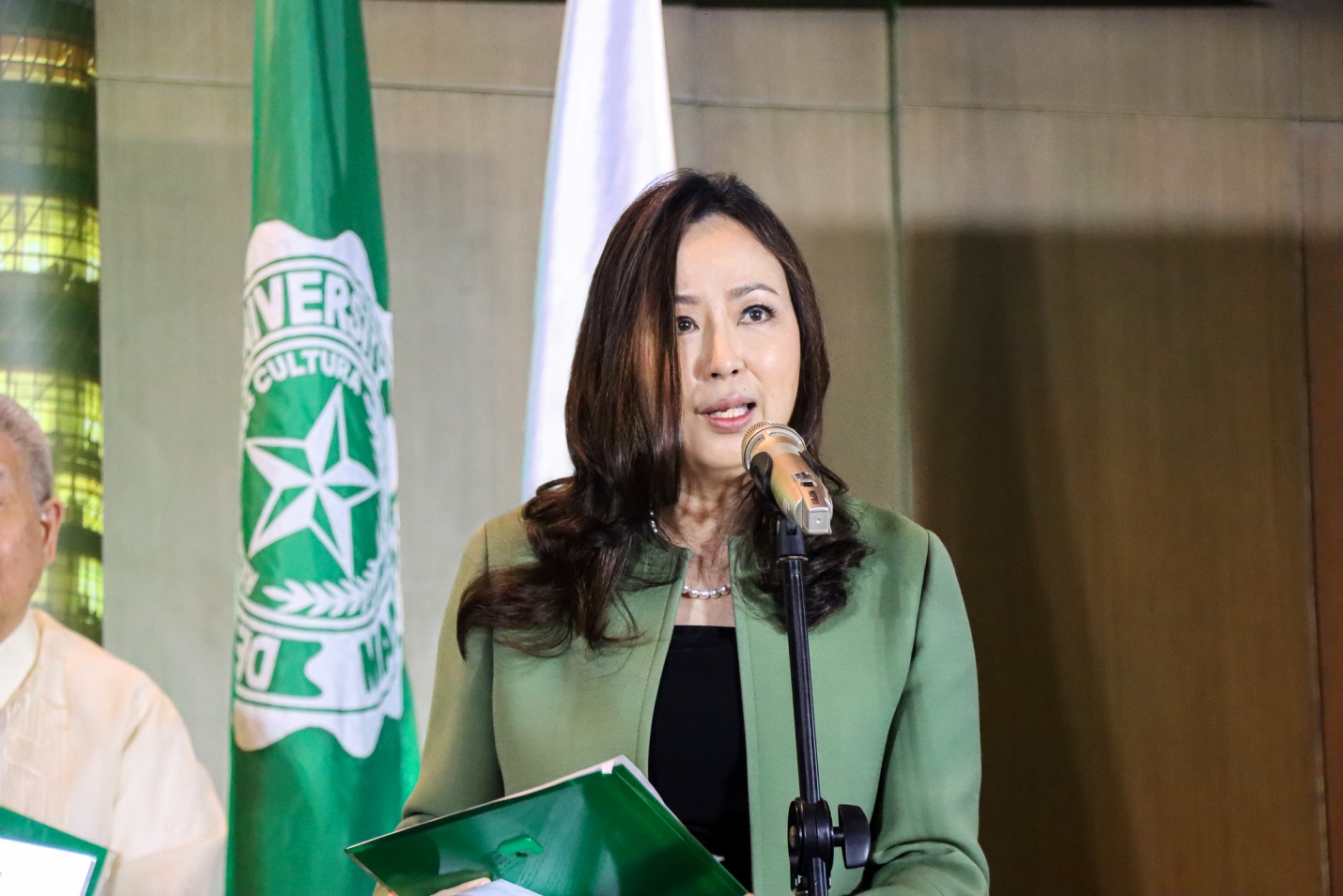 Uy as she delivered her acceptance speech, underlining La Salle's quality education that has been bringing out the best in students and allowing them to find their voice, explore their passions and strive to better themselves.
"La Salle was the place where I discovered my love for numbers and accounting. It's where I found conviction and truth in numbers," Uy said in her acceptance speech during the 8th One La Salle Night of Excellence, a bi-annual ceremony for La Salle alumni, held at De La Salle University (DLSU) Taft Campus.
She also credited DLSU for instilling in her the values of hard work and discipline that have contributed to her success.
Uy pursued a Bachelor of Science in Accountancy at DLSU, equipping her to secure 16th place in the Certified Public Accountant (CPA) Licensure Board Examination in 1989.
Converge founders Maria Grace Uy and Dennis Anthony Uy during the 8th One La Salle Night of Excellence held at the De La Salle University (DLSU) Taft Campus.
Uy encouraged fresh graduates to dream big, be curious, and work hard to make a difference. She urged them to pursue their interests and create opportunities to leave a positive legacy in their communities.
She also expressed her gratitude for the partnership between Converge and DLSU since 2011, with Converge powering up 18 sites on DLSU campuses nationwide.
"At Converge, together with my husband, we are grateful to the DLSU community for allowing us to be a part of the school's mission to be a leading learner-centered and research University that bridges faith and scholarship, serving society, especially the poor and marginalized," Uy said.
As one of the co-founders of Converge, Uy's influence and contributions have been recognized by various institutions locally and abroad.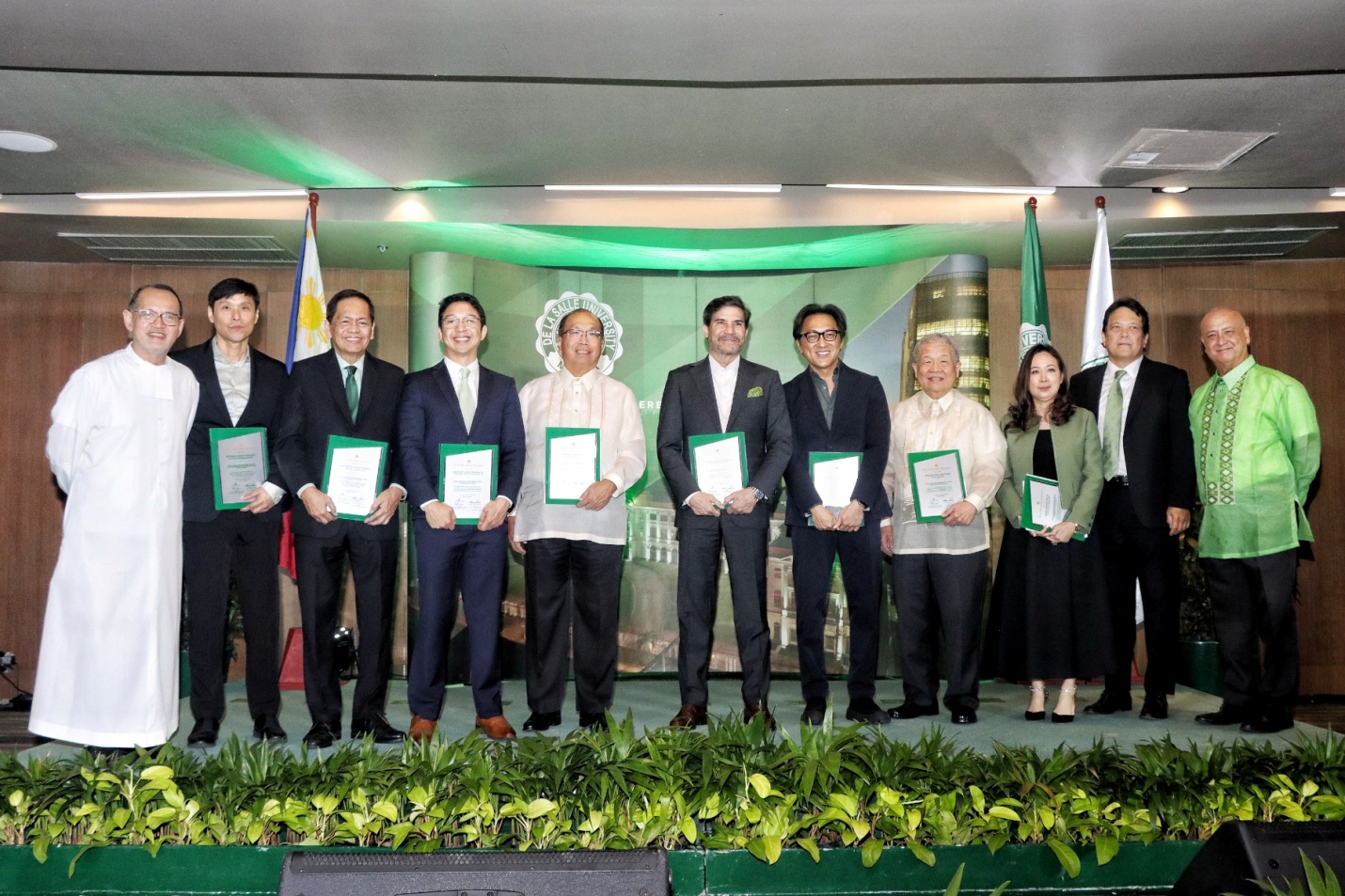 The DLSAA La Sallian Achievement Awardees. (From Left) DLSAA Brother Adviser Bro. Bernard S. Oca, Megawide Construction Co-founder Michael C. Cosiqiuen,  businessman Benjamin I. Espiritu, entrepreneur Rene "RJ" A. Ledesma Jr., COL Financial Co-Founder and Chairman Edward K. Lee, actor Eduardo "Edu" B. Manzano, President of Pag-Asa Steel Works Wellington Y. Tong, Converge Co-Founder and President Maria Grace Y. Uy, Past President of Eli Lilly and Company International Alfonso 'Chito' G. Zulueta, and DLSAA President Karl C. Valhagen.
These accolades include the 2022 Women in Telecoms from World Communication Awards, 2022 Influential Female Leader in Telco from Telecom Review Asia-Pacific, Forbes Asia's 50 Under 50 in 2022, and Forbes Asia's Power Businesswomen in 2021.