Gilbert Bulan, an eleventh grader from Ilagan, Isabela, used to go to school without a proper meal, at times eating only patis or fish sauce with rice for breakfast. On some days, there was nothing to eat at all.
The youngest of three siblings, Bulan, an 11th grader from the San Antonio National Agro-Industrial and Vocational High School (SANAIVHS) in Ilagan, Isabela, comes from a family who's unfortunately had limited opportunities in life. His mother, widowed 10 years ago, works as a farm laborer to provide for the family's needs. Given their financial situation, Gilbert works part-time as a sound operator at events to support the family and his studies.
With the help of Caritas Philippines' Alay Kapwa Program on Alay para sa Kalusugan (PaMEALYA Program), Gilbert and other families with similar situations are able to enjoy nourishing meals before class so they can focus while learning.
PaMEALyA was launched by the Diocesan Social Action Center (DSAC) – Ilagan Inc., in partnership with the Hapag Movement, a program led by Globe and implemented by partners such as the Catholic humanitarian, development and advocacy organization Caritas Philippines. It aims to address the issue of food insecurity among 430 DSAC-Ilagan scholars from low-income families.
Through thorough evaluation and needs assessment, DSAC-Ilagan found that many of their scholars face food insecurity due to poverty. Hunger is a major obstacle to students' ability to comprehend and retain lessons. PaMEALyA hopes to address this by providing supplemental feeding to scholars and their families to improve their overall well-being and support their education.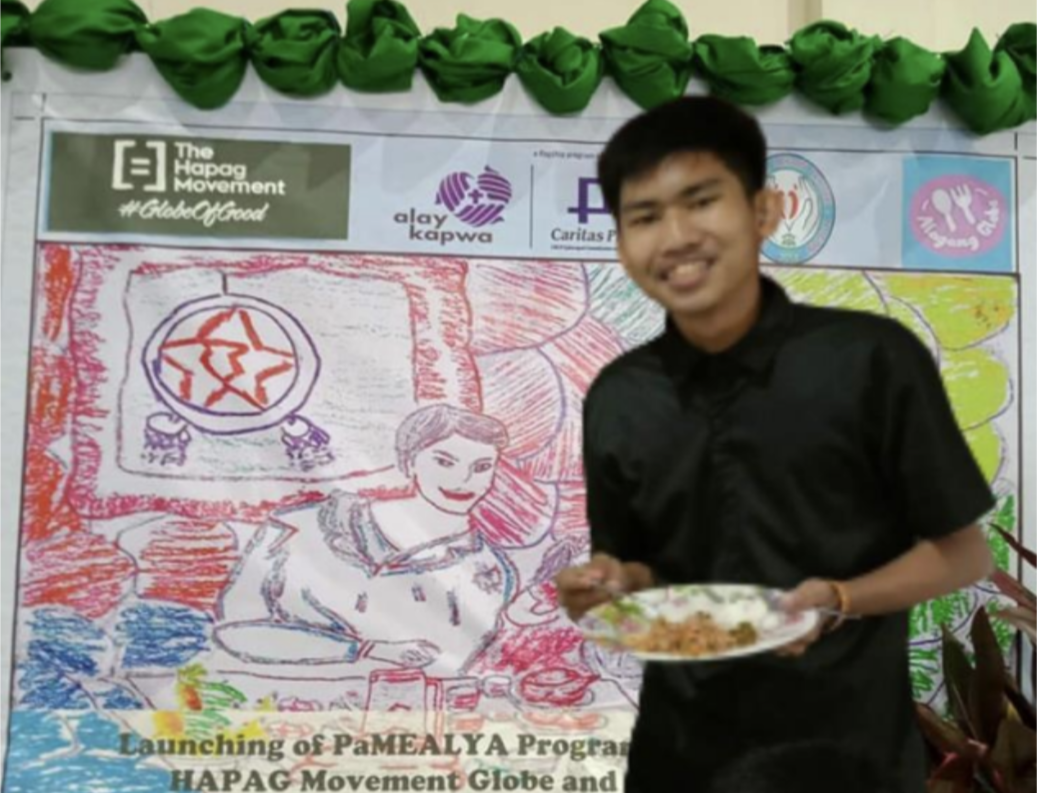 Gilbert Bulan, an eleventh grader from Ilagan, Isabela, is among beneficiaries of Caritas Philippines' Alay Kapwa Program on Alay para sa Kalusugan (PaMEALYA Program), which supports scholars facing food insecurity
The PaMEALyA program's roll-out in Ilagan last December was attended by about 1,000 community members, including the scholars and their parents, parish social action team members, volunteers, clergy, recipients of the Hapag-Asa Feeding Program, seminarians, and Self-Help Group Members of the DSAC.
Tenth Grader Daren Dave Aquilana, another beneficiary of the program, shared how it is helping him realize his goal of completing his studies.
"As a scholar, I wish to finish my education. Seeing the reality of our life, my parents are challenged to provide for all my needs. It is with a grateful heart to know that the feeding program will become part of the program I am engaged in," said Aquilana, whose father works in construction and whose mom is kept at home by poor health.
Caritas Philippines, as an implementing partner of the Hapag Movement, focuses on programs that render services to local communities, allowing people to effectively participate in fighting hunger through livelihood initiatives and social enterprise.
"At Globe, we are committed to making a positive impact on the lives of our communities. This program shows how collaboration and technology can help address pressing social issues such as hunger and food insecurity. We look forward to continuing to work together with Caritas Philippines and the DSAC-Ilagan Inc. to address involuntary hunger in the country," said Globe Group Chief Sustainability and Corporate Communications Officer Yoly Crisanto.
"We are honored to serve our communities through the PaMEALyA program. We are grateful for the appreciation and support of our beneficiaries, and we will continue to work towards providing for their basic needs and improving their lives," said Caritas Philippines Alay Kapwa Program National Coordinator Sweet Cruz-Racho.
Help change the lives of underprivileged Filipinos by supporting the Hapag Movement. Visit https://www.globe.com.ph/about-us/sustainability/globe-of-good.html#gref to know more.