MINERVA BC NEWMAN
PANGLAO, Bohol— The AppleOne Group, Inc. and JW Marriott signed a memorandum deal on June 17 in Singapore to build the JW Marriott Panglao Island Resort & Spa, a first 5-star hotel that will soon rise in Panglao, Bohol.
The joint venture agreement was borne out of the success and multiple recognitions gained by The Sheraton Cebu Mactan Resort and Mahi Center in Cebu with AppleOne bringing its expertise in hotel and property development to one of the country's prime tourist destinations that is Bohol.
"Surviving the worst effects of the pandemic, people are now eager to make up for the lost time and travel, and we intend to bank on that. We want to entice them more by bringing the luxury experience to the regions starting with Bohol which we believe they will enjoy even more because of the experiences and tourist destinations," AppleOne President and CEO Ray Manigsaca said.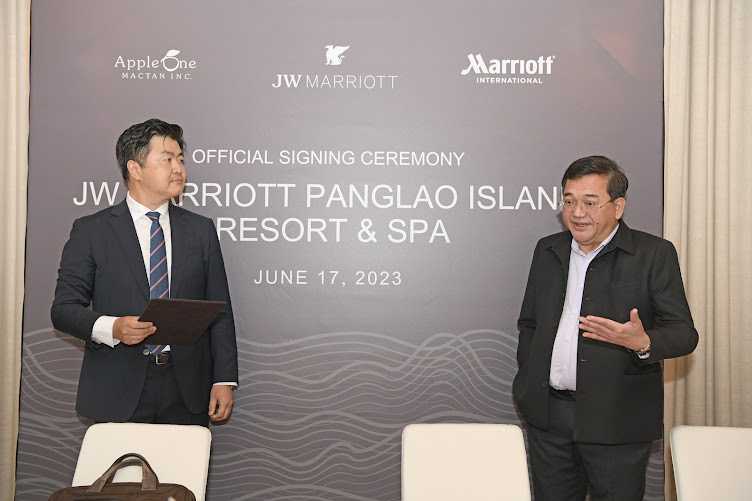 JW Marriott is part of Marriott International's luxury portfolio and consists of award-winning properties and beautiful resort locations around the world. The upcoming luxury property development in Panglao will be added to its roster of over 100 luxury hotels in more than 35 countries.  JW Marriott promises to ensure that the new hotel will offer modern conveniences and 5-star amenities in Panglao.
AppleOne president and chief executive officer Ray Manigsaca with his wife and AppleOne co-founder and Chairman Venus Manigsaca inked the deal with JW Marriott. They saw the future of the industry in Bohol.
The province boasts of endless nature-charged experiences in the tropical island life from chasing waterfalls, soaking in cave pools, swimming next to aquatic creatures, to getting lost in the beauty of the Chocolate Hills.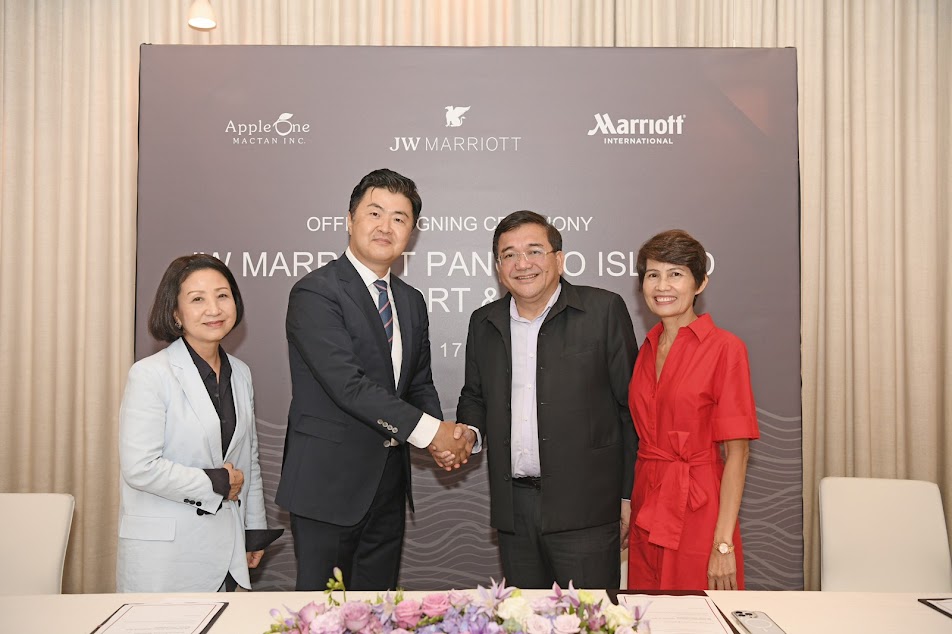 This is AppleOne's third partnership deal with Marriott International, following the successful birth of the international brand's placement in Cebu through the Sheraton Cebu Mactan Resort and the Fairfield by Marriott Cebu Mactan that is located within the premises of Mahi Center.
This is a testament to AppleOne's strong relationship and continued partnership with Marriott International.  AppleOne is strongly committed to helping enrich the lives of Filipinos and elevate industry standards across the regions.