It's not just all business during the Mandaue Business Month 2023. The Mandaue Chamber of Commerce and Industry (MCCI) also holds fun activities for member companies.
Employees of MCCI member companies will show their stuff at the Lord of the Pins: MCCI Bowling Tournament scheduled on August 19, 2023 at the SM City Bowling and Leisure Center.
MBM 2023 chair Mark Anthony Ynoc, who heads this event, said the chamber wants to promote camaraderie and sportsmanship among member companies. This event also hopes promote health and wellness among the business community.
"In the previous years, we have basketball, obstacle races, and a volleyball tournament. This year we wanted "Lord of the Pins" bowling tournament since most members have their own bowling teams," Mr. Ynoc explained.
The tournament can accommodate 20 teams. "We have reserved 10 bowling lanes at SM from 5 pm to 9:30 pm. The first batch will play from 5 pm to 7 pm and the second batch will play from 7 pm to 9 pm. during the elimination round. The top eight will move to the Final Round," Mr. Ynoc said.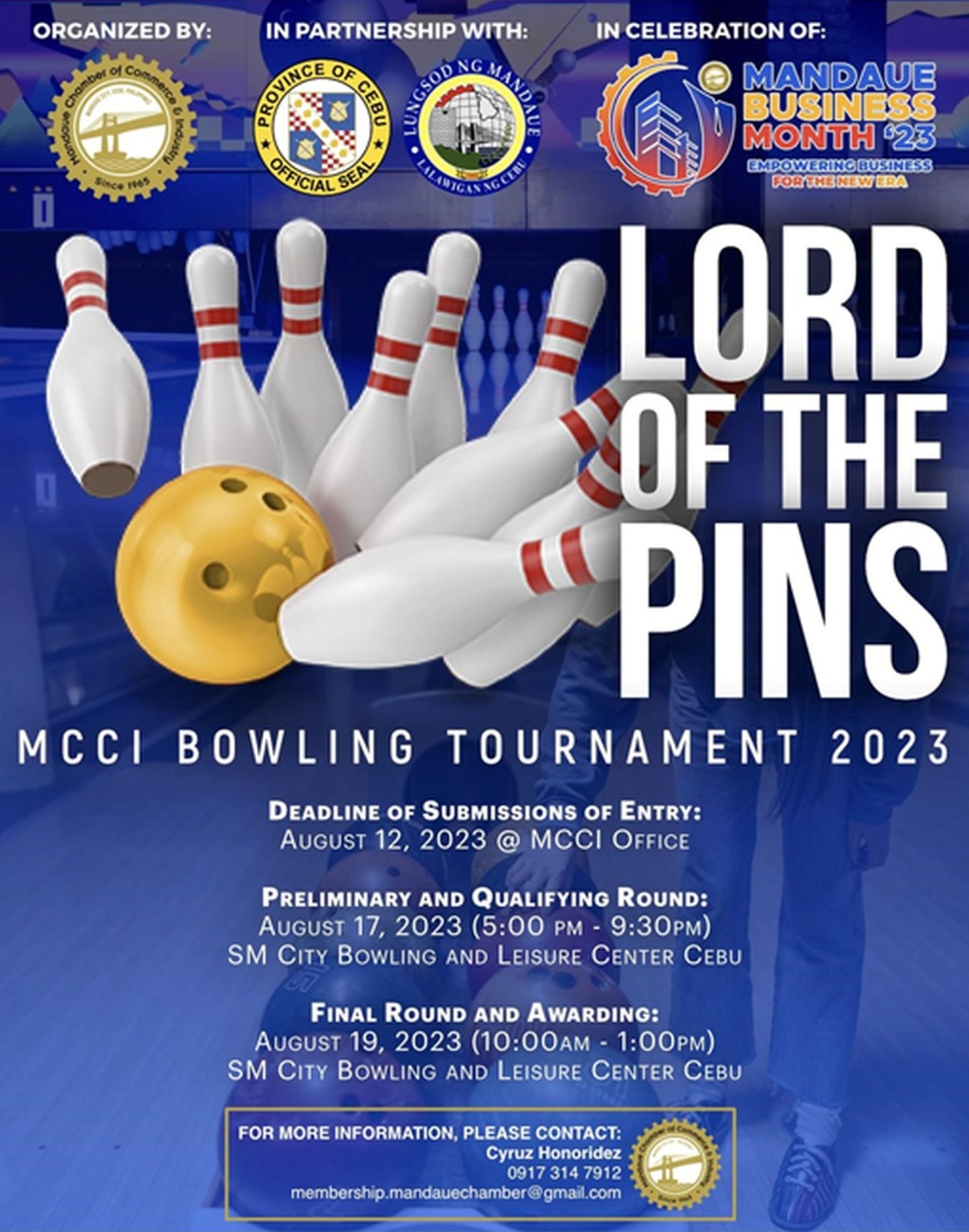 The Champion team will receive a trophy, P10,000, and a gift pack. The First Runner-up will get a trophy, P7,000, and a gift pack while the Second Runner-up will be given a trophy, P5,000, and a gift pack. The fourth runner-up will also receive a trophy, P3,000, and a gift pack.
High scorers with Turkey or three consecutive strikes in a row for men and two consecutive strikes for women will get a medal and a gift pack," Mr. Ynoc said.
The deadline for submission of entry is on August 12, 2023. The Preliminary and Qualifying Round will be held on August 17, 2023 from 5 pm to 9:30 pm. The Final Round and Awarding will be on August 19, 2023 from 10 a.m. to 1:00 pm.
For more information, please contact Cyruz Honoridez at 09173147912.