MINERVA BC NEWMAN
CEBU CITY – The Department of Agriculture (DA-7) continues to empower and equip farmers in Central Visayas by providing and accessing funds and training support for them to be more agriculturally productive for better family income.
DA-7 OIC-regional executive director, Joel Elumba encouraged farmers to produce more vegetables since local supply in Cebu City cannot meet the local demand.  He said that most of the vegetable supply here come from Mindanao.
In December last year, Elumba handed a certificate of turnover to the City Agriculturist Joelito Baclayon of a greenhouse facility worth P1.7M to the Napayran United Farmers Association (NUFA) at Sudlon I, Cebu City and received by its president Narciso Ragodos.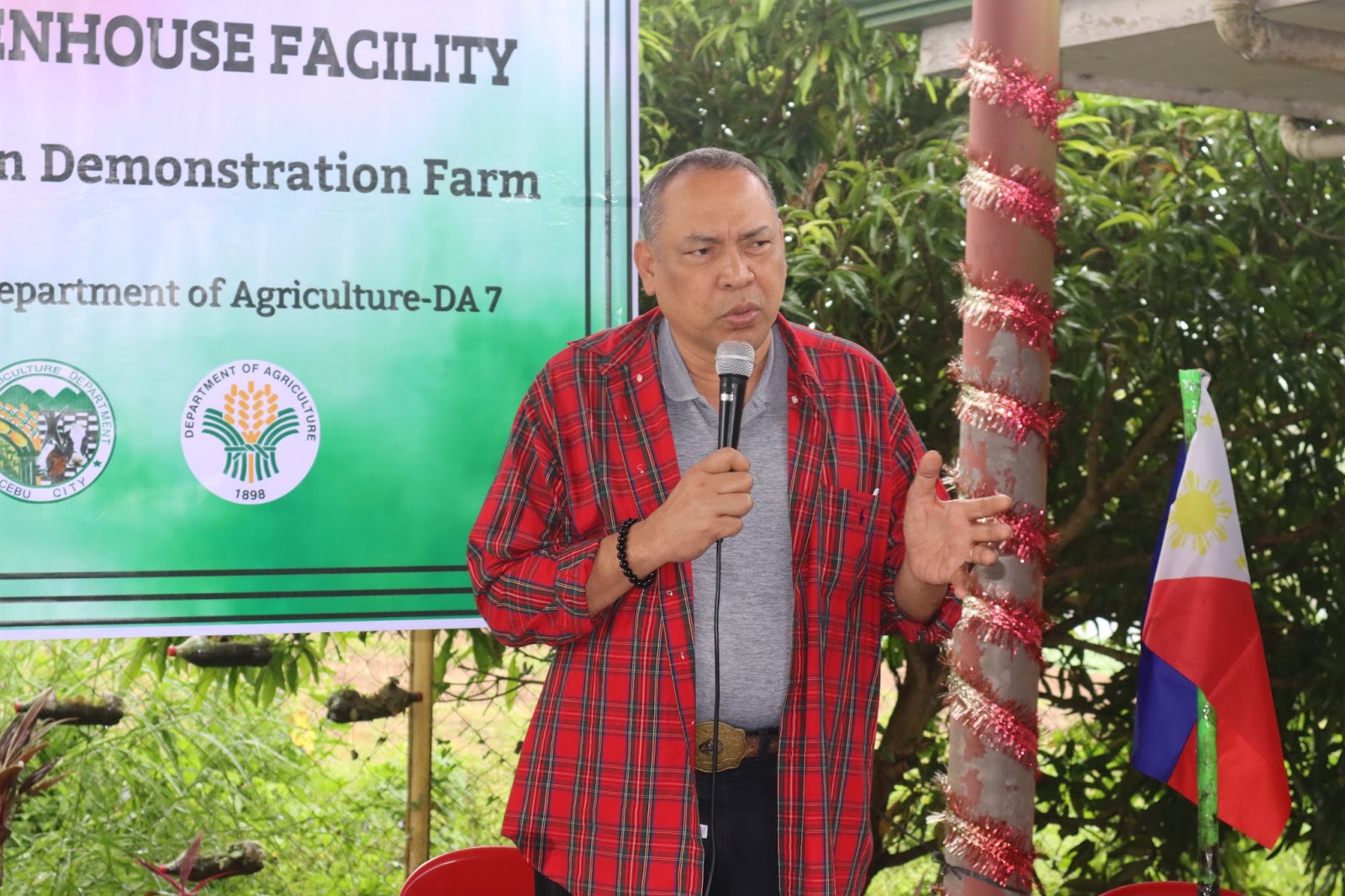 According to Elumba, the greenhouse facility was funded under the High Value Crops Development Program (HVCDP) of the Department of Agriculture-Central Visayas (DA7).  Elumba has been campaigning for organic farming to cope with the high cost of inorganic fertilizers.
Ragodos, in his acceptance message, thanked the DA-7 and the Cebu City Government for the support extended to them describing it as an early Christmas gift they received from the government adding that the greenhouse will greatly help in their vegetable production.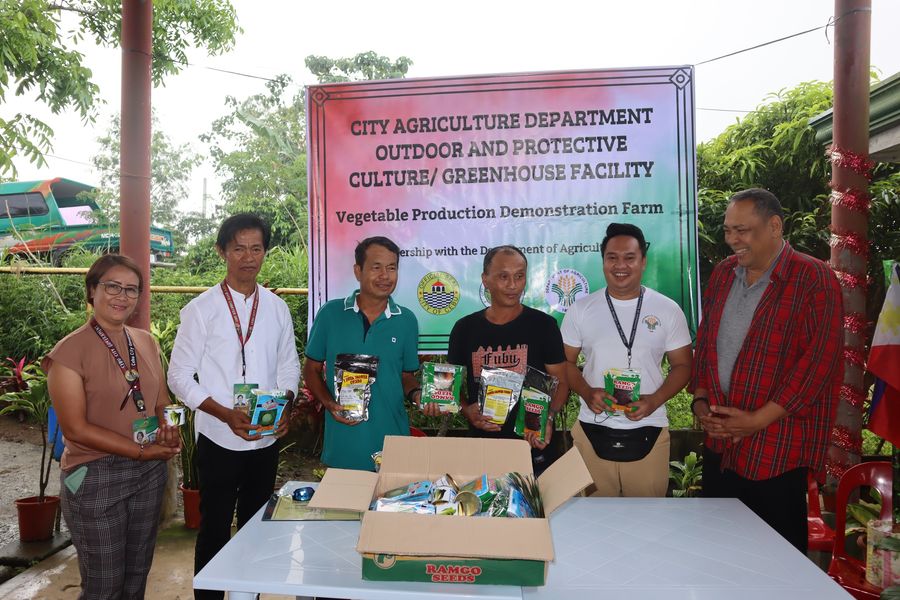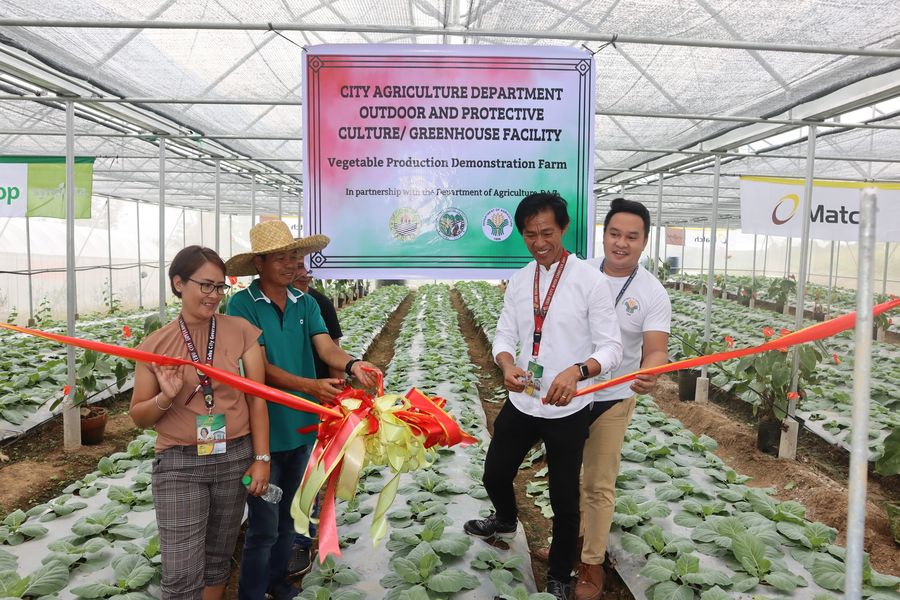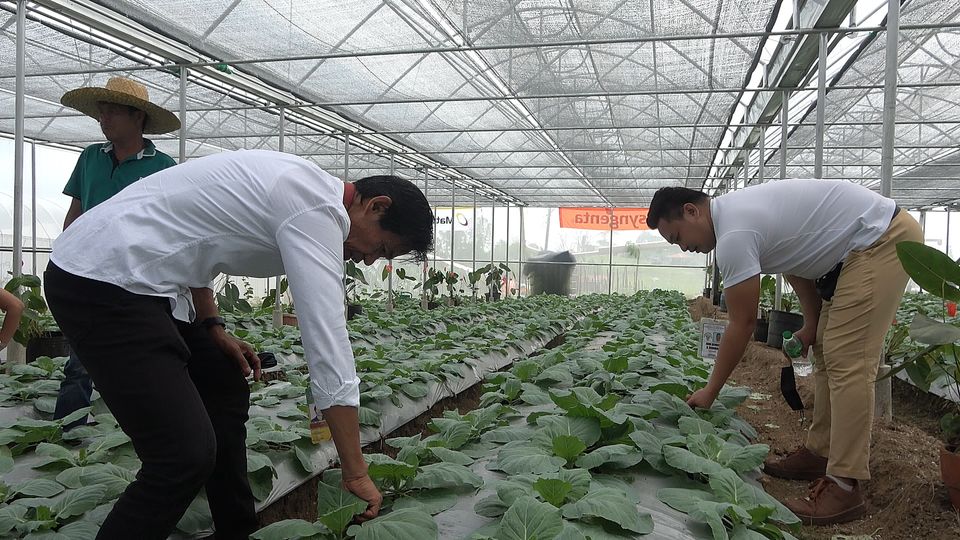 Aside from the greenhouse facility, the city agriculture also distributed assorted vegetables such as lettuce, pechay, cabbage, carrots, among others.
DA-7 received ACEF award for top support to livestock sector
Meanwhile, the LandBank (LB)-Cebu South Lending Center received a certificate of recognition having the highest number of livestock projects assisted, based on the number of accounts funded from January to October, 2022 under the credit component of the Agricultural Competitiveness Enhancement Fund (ACEF).
This enabled DA-Central Visayas to be awarded nationwide as the ACEF top support to the livestock sector in terms of projects assisted.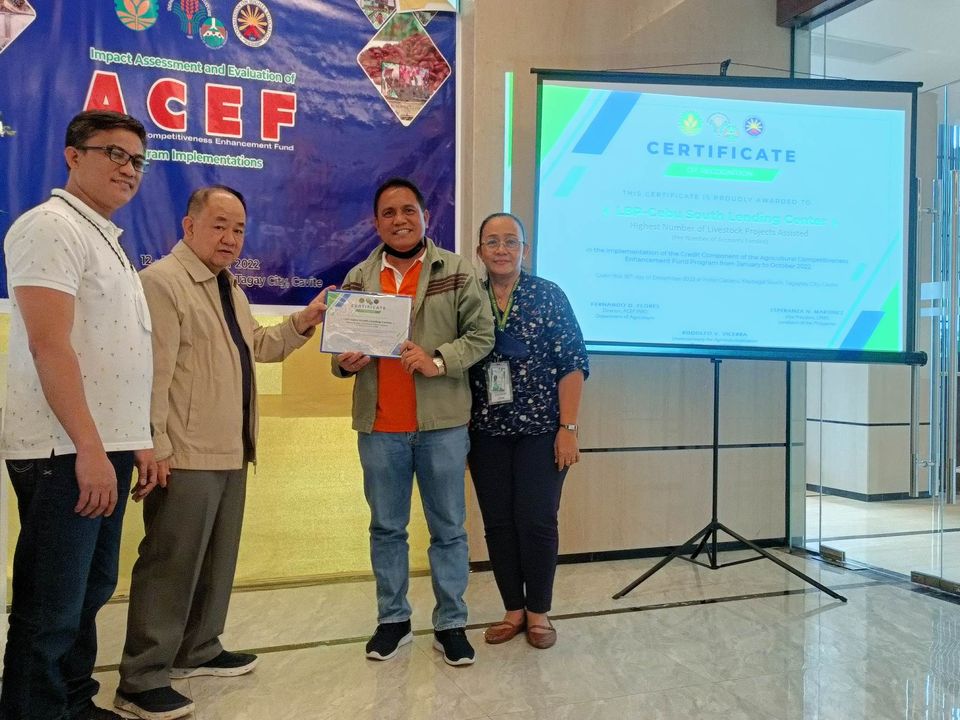 DA Undersecretary Rodolfo Vicerra handed the certificate to Bobby Arnold Calimot LB-North (representing LB South) with DA-7 ACEF Focal Marina Viniegas in December last year, held at Tagaytay City.
For 2023, DA-Central Visayas will have an ACEF funding support of P600,000.00 that will be downloaded to DA-7 Trust Fund with the memorandum and Implementing Rules and Regulations (IRR) are issued upon the release of the fund transfer, DA said.
DA-7 facilitated an 18-week training for 51 rice farmers in Pinamungajan, Cebu
In another development, DA-7 facilitated an 18-week or four months Season-long Farmers Field School on Climate Resiliency Farm Business School to 51 rice farmers in Barangay Anapog, Pinamungahan, Cebu.
The training was conducted by the Rice Program of the DA-Central Visayas in collaboration with the Local Government Unit (LGU) of Pinamungahan from August 1 to December 7, 2022 for them to learn new technologies on rice production by following the nine PalayCheck Systems and the Agro Ecosystem Analysis AESA.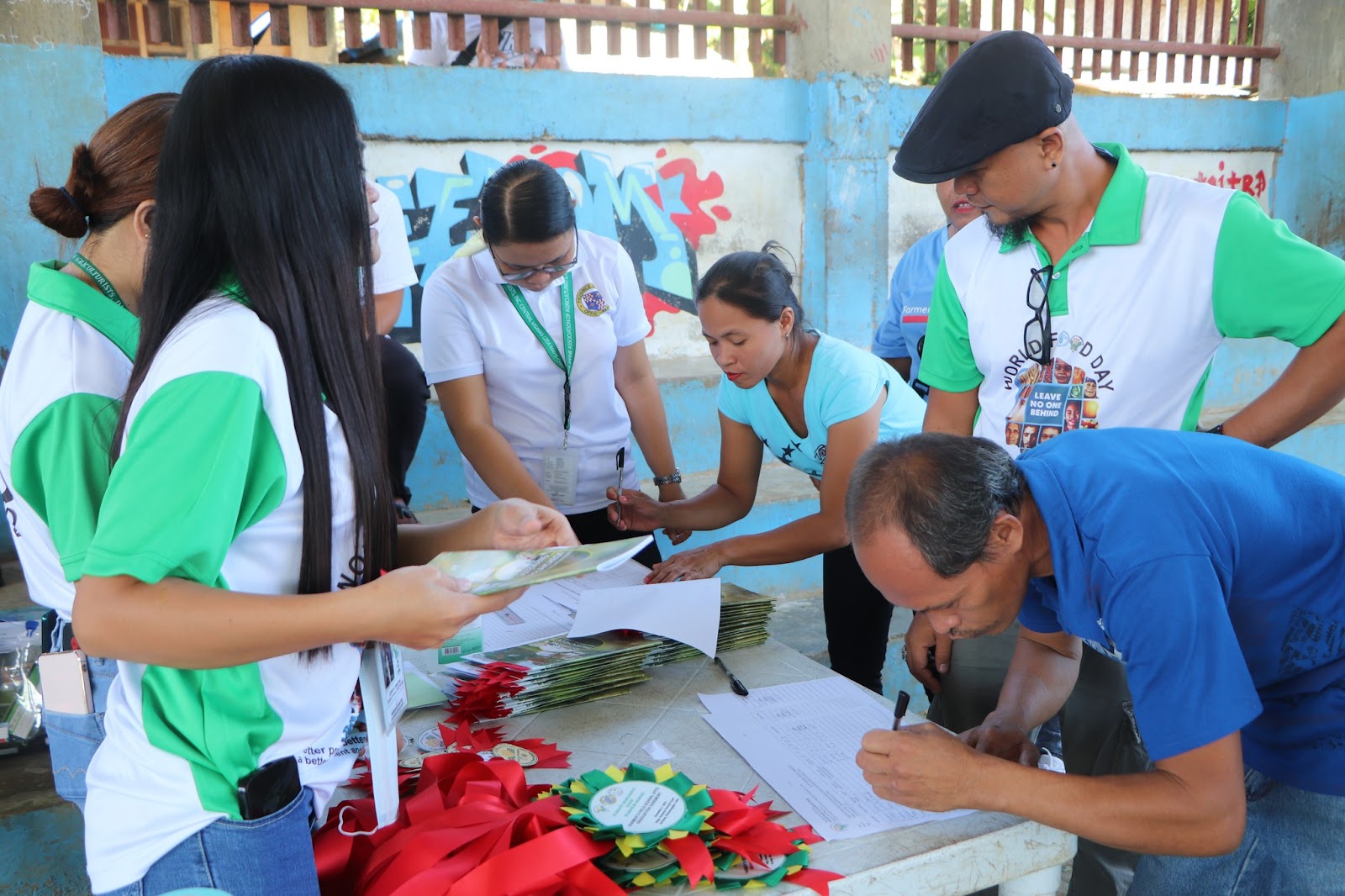 "Farming is a science-based technology approach, from land preparation, to planting to harvesting and the DA is aiming for an increase in local food production," DA-7 Regional Technical Director Engr. Cirilo Namoc said during the graduation ceremony in December last year.
Pinamungajan Mayor Ana Jessica Baricuatro said, farmers need to upgrade their knowledge and skills in rice production and the application of their learning in their respective rice fields.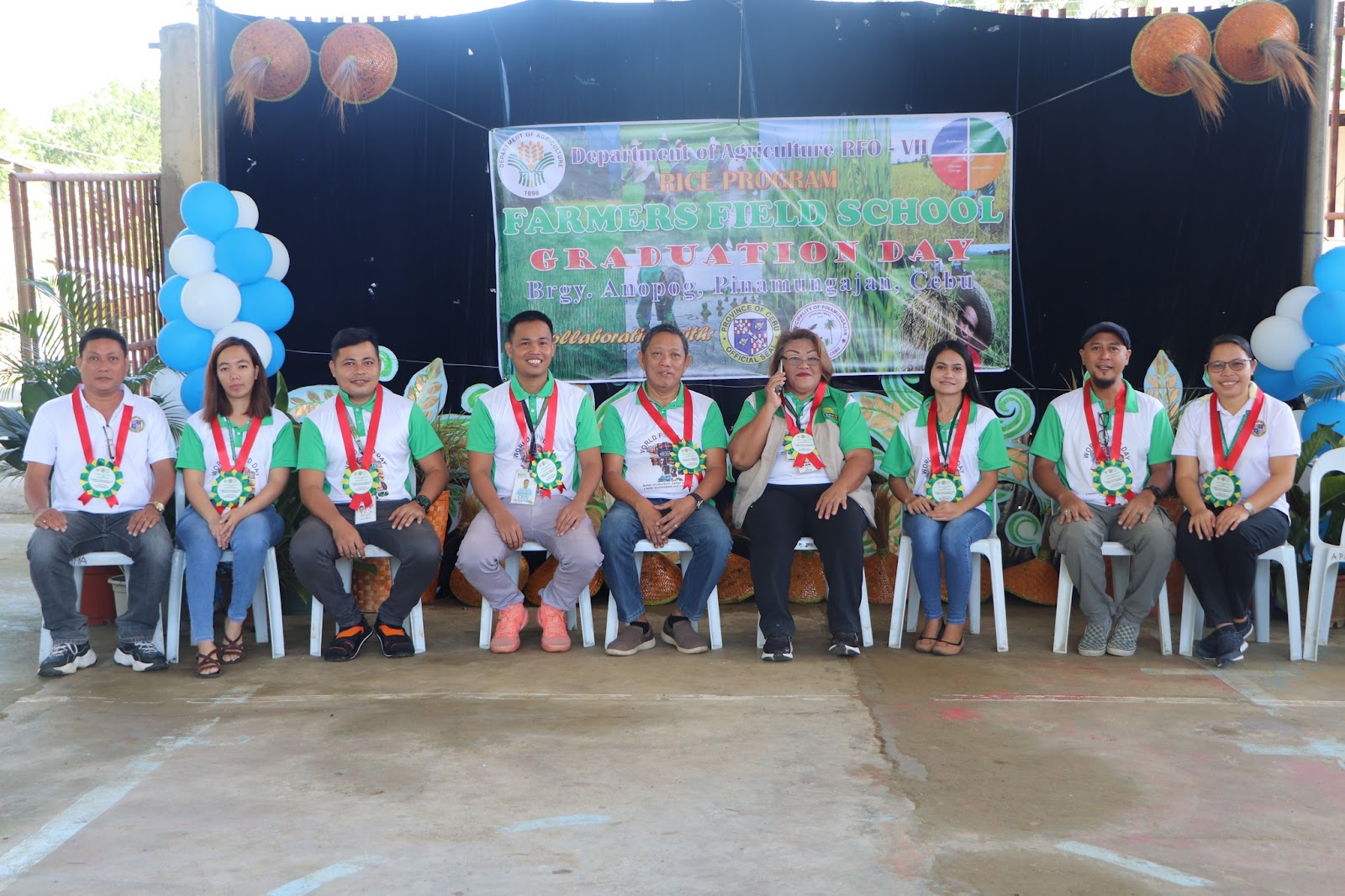 "Age is not a hindrance to continue learning most especially on new farming technologies, since learning is a continuous process and across time there are changes or upgraded technologies," Provincial Rice Coordinator Joseph Dela Cerna said to inspire both the younger and older generations of farmers in the town.