The study also found that consumers in Singapore, Malaysia and the Philippines turn to social media platforms for product research, with Philippines taking the lead with the largest number of creators and Malaysia for content creation technology ownership.
Logitech, in partnership with Southeast Asian consumer research company, Milieu Insight, today announced the findings of its survey on content creation technology and factors influencing consumption of podcasts.
The study found that the ownership of audio and video content creation technology is highest in Malaysia (65%), followed by the Philippines (59%) and Singapore (49%).  In terms of purchase intent, about 1 in 2 respondents from Singapore (49%) reported an overall interest to purchase audio and video technology, which is significantly lower than SEA counterparts, Malaysia (74%) and The Philippines (79%).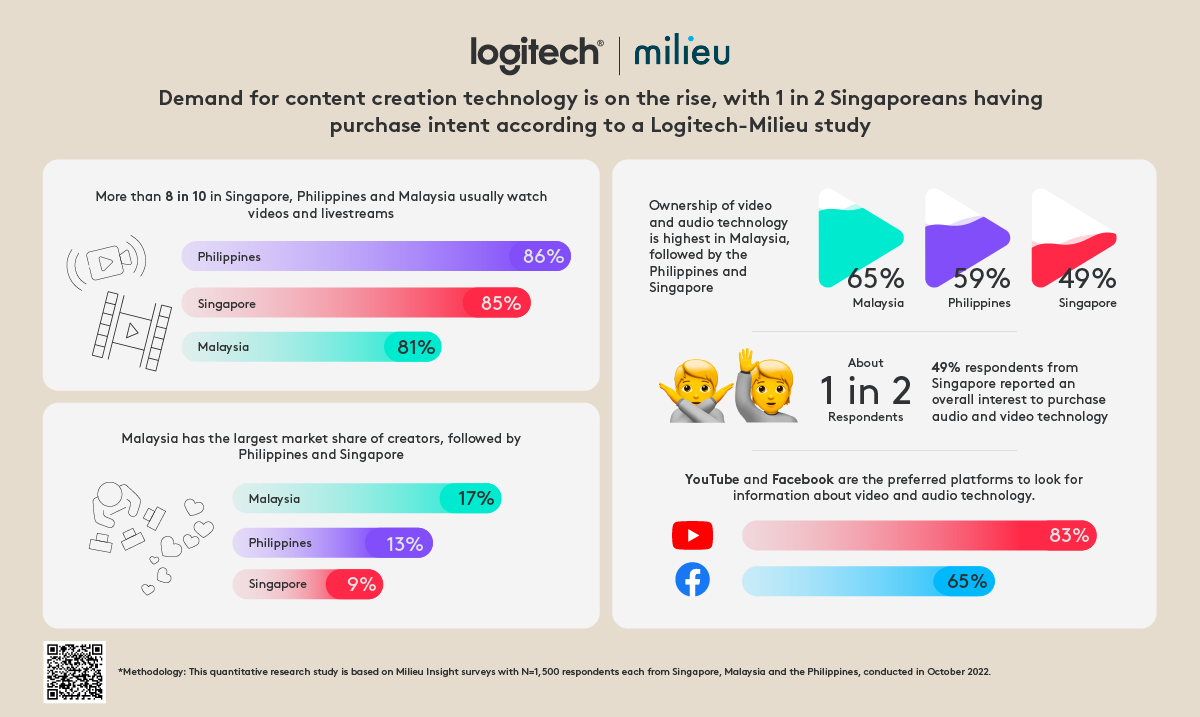 For those who were interested in researching more about the various audio and video technology to purchase, respondents turned to social media platforms like YouTube (83%) and Facebook (65%) as their preferred platform of choice to look for more information.
Across all three countries, 13% of those surveyed were audio or video content creators, with Malaysia having the largest market share of creators (17%), followed by the Philippines (13%), and Singapore (9%). While numerous factors have contributed to the explosion of the content creator industry – including its rising lucrative factor – this trend is set to continue with increased access to advanced technological tools, which enable budding creators to easily produce professional quality content.
Commenting on the landscape of content creation by businesses, Mark Laudi, Convenor, Media Savvy Awards said "Since launching the Media Savvy Awards in 2018 we have seen the quality of submissions keep pace with the developments in podcasting hardware and technology. Asian experts appearing in podcasts are increasingly articulate in their messaging, more refined in their responses and less plagued by stage fright."
Bernard Chow, Logitech's Head of Cluster for Singapore, Malaysia and the Philippines, said, "As the digital creative economy continues to boom, demand for audio and video technology will continue to trend upwards, ushering in an exciting period for independent content creators. Budding and veteran content creators are now raising the bar to stay ahead of the competition by ensuring they produce content with broadcast-quality sound, and professional grade video and lighting. At Logitech, our aim is to continuously innovate to empower both beginner and advanced creators to pursue their passions  as they work, create and play."
Stephen Tracy, Chief Operating Officer, Milieu Insight, said, "It's been incredible to watch the digital creator economy evolve over the years as hardware and software has become more accessible to the masses. The findings of our latest study highlight just how advanced creators across Southeast Asia have become, but the data also highlights how much growth potential lies ahead. With 65% of the consumers surveyed saying they were either somewhat or very likely to purchase video/audio products going forward, the future of content creation looks bright for Southeast Asia.''