SUN Savings Bank is a customer-oriented thrift bank committed to providing you with simple, convenient and high-yield financial products.
Empowering growth and financial inclusion, SUN Savings Bank has once again showcased its remarkable performance in the first quarter of 2023, solidifying its position as a prominent player in the banking industry. With substantial growth in total assets, loans, and deposits, the bank has proven its ability to adapt to market dynamics while maintaining a focus on customer satisfaction. Furthermore, SUN Savings Bank's commitment to financial inclusion is evident in its new offerings, providing rewarding rates for depositors of all sizes. Let us delve into the details of the bank's achievements and its dedication to serving the community.
In just one year, SUN Savings Bank witnessed a remarkable surge in total assets, with an astounding 50 percent increase, soaring from P2.23 billion to P3.3 billion. This growth can be attributed to the bank's strategic decisions and effective management. Notably, total loans also experienced a substantial upswing, rising by 57 percent to reach P2.6 billion. The bank's focus on quality loan portfolio management is evident, as the non-performing loan ratio improved from 2.7 percent to an impressive 2.5 percent.
Recognizing the importance of maintaining liquidity, SUN Savings Bank proactively bolstered its liquid assets, primarily comprised of deposits with the Bangko Sentral ng Pilipinas and other prominent banks. The bank witnessed a significant increase, with liquid assets growing from P194 million to P340 million in just one year. To sustain its high loan growth and liquidity levels, SUN Savings Bank attracted more deposits, with a substantial 23 percent increase, reaching P1.82 billion by the end of March 2023, compared to P1.48 billion a year ago.
To ensure a strong foundation for future growth, SUN Savings Bank's shareholders increased their paid-in capital from P320 million to P391 million. Coupled with increased retained earnings driven by highly profitable operations, the bank achieved a record-level total shareholders' equity of P490 million as of March 31. This reinforced capital base serves as a testament to the bank's commitment to stability and longevity, providing customers with the confidence that their deposits are secure.
Benefitting from substantial loan growth and high net interest margins of 10 percent, SUN Savings Bank generated a robust net income of P26.8 million in the first quarter of 2023. This impressive figure represented a staggering 160 percent increase compared to the P10.3 million earned in the same period of the previous year. Consequently, the bank achieved an annualized return on equity of 24.8 percent, more than doubling the 11 percent return from a year ago. Such financial prowess highlights the bank's proficiency in capital management and its ability to generate sustainable profits.
As part of its major initiative towards greater financial inclusion, SUN Savings Bank launched a range of deposit products aimed at providing rewarding rates to a wider array of depositors. Offering a tax-free interest rate of seven percent per annum for a five-year time deposit of P50,000, the bank enables individuals to earn more on their hard-earned savings, thereby mitigating the adverse effects of high inflation. Additionally, the bank extended rewarding rates of 5.5 percent per annum and six percent per annum for shorter-term deposits of P15,000 and P30,000, respectively. This inclusive approach allows more depositors to enjoy the benefits that were typically reserved for larger clients at bigger banks.
With the experienced trustworthy team of managers, finance specialists and investors, with an impressive track record in the business and banking industries, SUN SAVINGS BANK ensures you of long-term stability and growth for your investments.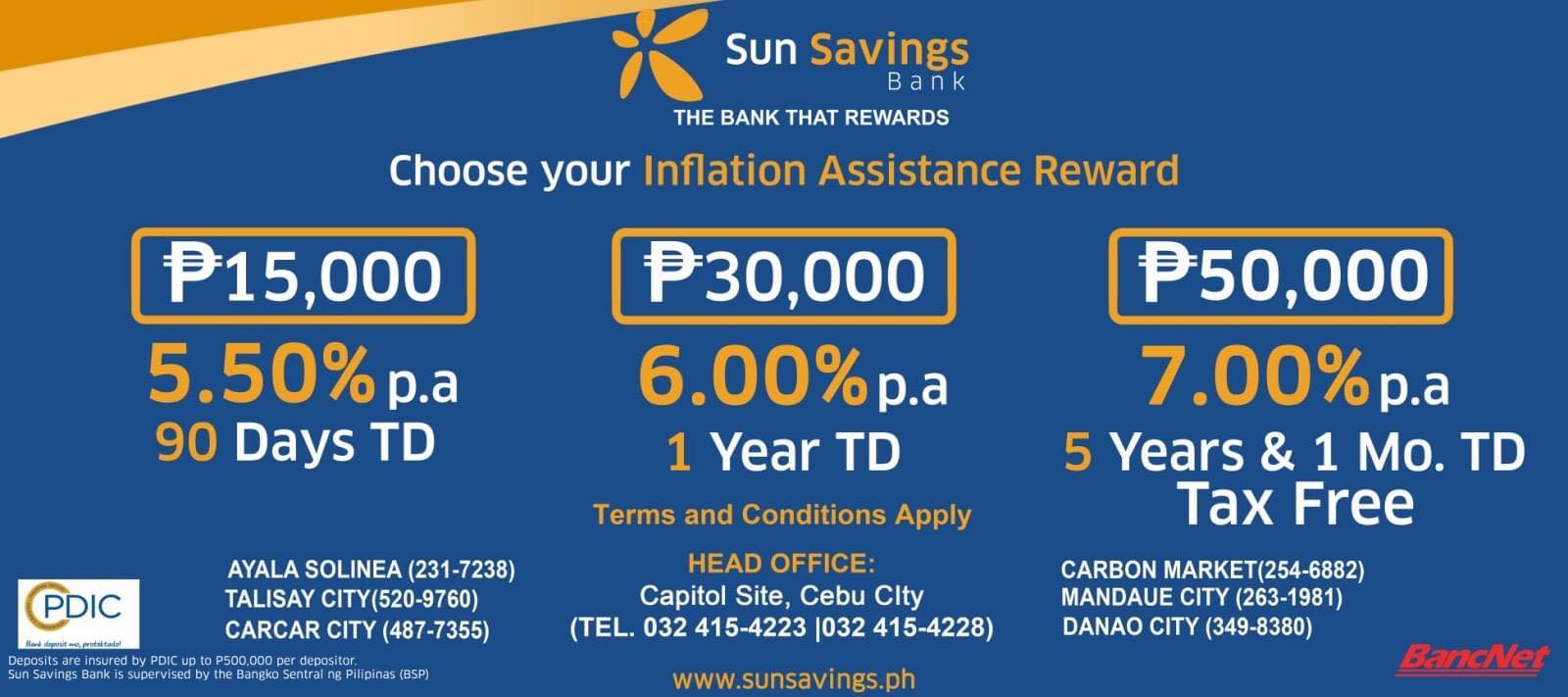 SUN Savings Bank prides itself on its long-standing tradition of delivering superior financial services to the community, underpinned by exceptional customer service. The bank's commitment to personalization is evident in its dedication to understanding and exceeding individual customer needs. By focusing on the "little things" that make each customer's experience special, SUN Savings Bank has built strong relationships and earned the trust of its customers.
To learn more about SUN Savings, visit their website at https://sunsavings.ph/.