We don't talk enough about mind health at work until we reach breaking point.
To be effective, organizations have explored many aspects of health in the workplace, but mind health has not been at the forefront.
Shameful. Expensive. Dealing with the stigma can add to the burden of caring for one's mental health. An employee can't speak up because of worries like: Does my manager know how to have a conversation about mental health? Is my manager supportive? Will I be stigmatized by management? Or worse, will I be eased out of my position because of mental health issues?
In a recent survey by Milieu Insight, the Philippines ranks third highest among six countries surveyed where employees are not comfortable sharing their mind health challenges with managers. Singapore, at 62 percent, leads, followed by Malaysia with 45 percent, and the Philippines with 38 percent.
Mind health is complex. The role of mind health in the workplace can greatly impact an organization. The global economy loses 1 trillion dollars every year, because of poor mental health (Deloitte, 2022). With these staggering numbers in mind, finally, there is an upward trend in awareness about this issue and better information about what individuals and organizations can and should do in response.
"Now is the right time to talk and understand more about mind health. It's long overdue. Working for mind health is an incredibly important initiative. A workplace should be designed to support the well-being of its people. Improving mind health and physical health in the workplace are both critical in achieving one's full potential," states mWell partner psychologist Riyan Portuguez, Clinical Psychology (RPsy), RPm, and YMP LeaD.
Locally, the Department of Labor and Employment (DOLE) calls attention to the importance of mental health in the workplace by adopting and implementing mental health policies and programs in workplaces (Republic Act 11036 or the Mental Health Act).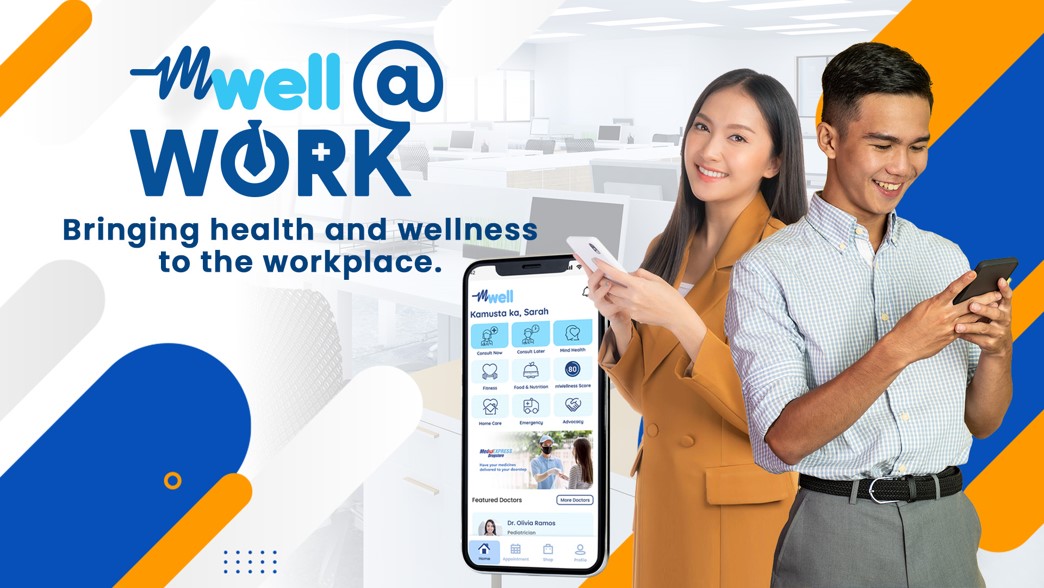 mWell, as the country's first fully integrated, fully digital health app, provides access to mind health experts—psychiatrists, psychologists, and counselors are available anytime on the app and can provide assessment, care, and intervention. mWell understands that a comprehensive, convenient, and accessible tool to help people address mental health issues affects their ability to be effective and present at work.
mWell Chairman and MPIC Chairman and CEO Manuel V. Pangilinan says, "As the number of our users continue to grow, mWell shall deliver programs and features to provide our countrymen with innovative and responsive healthcare solutions through our fully integrated health and wellness platform recognized globally."
Access through the mWell app mind health care helps reduce stigma and discrimination among employees regarding mind health conditions in the workplace and provides support to workers using a wide range of features and services available on mWell.
Physical health and mental health are closely linked. mWell also has over 1000 highly trained Filipino partner doctors available for consultation 24/7.
mWell CEO and President and MPIC Chief Finance, Risk, and Sustainability Officer Chaye Cabal-Revilla underscores the value of holistic wellness. "Health is very important in order to remain productive and provide for the needs of our families. With mWell, office workers can easily consult family doctors, specialists and even mind health experts who can help them overcome work-related stress. They can also use the app's mWellness Score feature to track their health daily or get into fitness and nutrition programs designed by experts. All of these will help employees power through the challenges at work as they keep both their mind and body healthy." Cabal-Revilla said.
Committed to changing lives through the power of technology, mWell has a wide range of health and wellness features providing employees with a holistic approach to health and wellness.
mWell offers patients a seamless end-to-end journey– from seeing a doctor 24/7, paying for the consultation, and even having medicines delivered straight to their doorstep. Free e-prescriptions, e-medical certificates, and lab referrals are loaded into the app after consultation. To help ease financial worries, affordable health plans for doctor consultations are easily within reach like the Healthsavers Plan P399 where you can have 1 doctor consultation, free medical certificate, and free accident insurance.
mWell also promotes preventive healthcare. The mWellness Score, developed by data scientists, measures physical health based on daily activities – exercise, light activity, steps, and sleep. This serves as a guide to achieving a healthy physical lifestyle to fight against chronic diseases and attain long-term health. Specialized fitness programs and healthy recipes created by nutritionists are also a tap away.
Sustainable mind and physical health care is possible with the right resources available. Simply download the mWell PH app from the Apple App Store or Google Play Store and register.