Lovely M. Demandante, a 20-year-old lass from Dingras town, was crowned Miss Ilocos Norte 2023 during the highly anticipated finals at the Ilocos Norte Centennial Arena in Laoag City, last night.
This is the second Miss Ilocos Norte main title that the Municipality of Dingras claimed. The first was in 2016.
"Miss Ilocos Norte has always been about more than just beauty and advocacies. Our winners receive scholarships, and [they] carry out meaningful campaigns in their communities," Governor Matthew Marcos Manotoc expressed.
"We do not only celebrate the 23 Ilokanas here on stage, but we celebrate the Ilokana, the greatness of Ilokana, who composed the very bedrock of the Ilokano society," he added.
Miss Dingras bested the other 22 modern Ilokanas vying for the title.
Lovely, a Bachelor of Science in Education Major in Science student at Mariano Marcos State University and a natural stunner with an imposing height of 5'9″, also bagged the Best in Municipal Costume award.
During the final question and answer round, Demandante boldly responded to the question asked by Miss Universe Philippines 2019, Gazini Christiana Jordi Ganados: "How will you embody the spirit of a modern Ilokana while honoring the rich heritage and traditions of Ilocos Norte?," saying:
"I will embody it by accepting change, as well as preservation. Change in a way that women nowadays talks, and when they talk everybody listens, and when everybody listens they influence."
"I would use that to cultivate the culture and heritage of Ilocos Norte because I believe that we Ilokanos have a lot to offer    more than just the tourist spots [and] delicacies. We are so much more than that," she ended.
The selection committee was composed of beauty queens, designers, and an Ilokano bar topnothcher and educator, namely fashion designers Mr. Leo Almodal, Ms. Cheetah Rivera, and Ms. Axel Que; Miss World Philippines 2021, Tracy Maureen Perez, Miss Philippines Earth 2023, Yllana Marie Singin Aduana, Binibining Pilipinas International 2022, Nicole Borromeo, and Miss Universe Philippines 2019, Gazini Christiana Jordi Ganados; 2022 bar topnotcher Atty. Jether K. Corpuz; and completing the list of committees is a consultant and a champion for Ilokano culture and arts, Prof. Arsenio T. Gallego.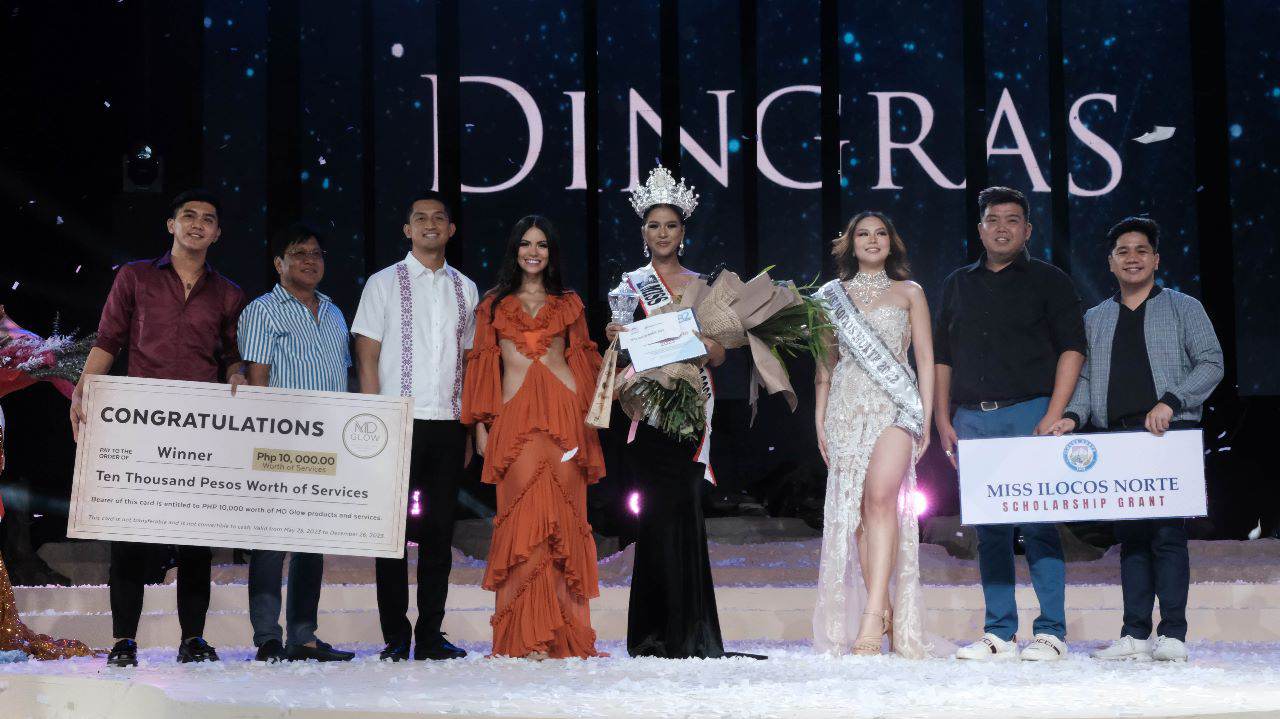 Meanwhile, 19-year-old Tourism student Kate Winslet V. Villa, of Solsona town, was hailed as first runner-up. She also bagged the Best in Swimsuit award. Mariela Biaca Q. Acob of Bacarra, Samantha Jane Aganon of Badoc, and Maria Pamela Ellena S. Agurita of Paoay were crowned second, third, and fourth runners-up, respectively.
Demandante and her fellow winners will serve as the province's ambassadresses in youth affairs, education, tourism, and environmental conservation, among others.
Miss Dingras' success embodies the essence of Ilokana pride, which inspires the Ilokano youth across the province to strive for greatness while cherishing their cultural heritage. – Kenneth Dhovan Natividad, PGIN-CMO