In a resounding display of regional solidarity and commitment to economic advancement, the Cebu Chamber of Commerce and Industry (CCCI) has emerged as a resolute force during the 32nd Visayas Area Business Conference (VABC) marking its presence with the largest delegation of 18 participants from the region. The 2-day conference was held at The Bellevue Pavilion in Panglao, Bohol, stood as a pivotal occasion for leaders from diverse sectors to convene and engage in dialogues centred on the theme "Exploring new Economic Frontiers in Technology, Governance, and Innovation."
The 32nd VABC was strategically curated to traverse the intersections of technology, governance, and innovation, and to tap into the latent potential of thriving industries within the Visayas region. By spotlighting the critical role of digitalization in reshaping local businesses, the conference sought to uncover insights that could empower stakeholders to navigate the dynamic economic landscape effectively.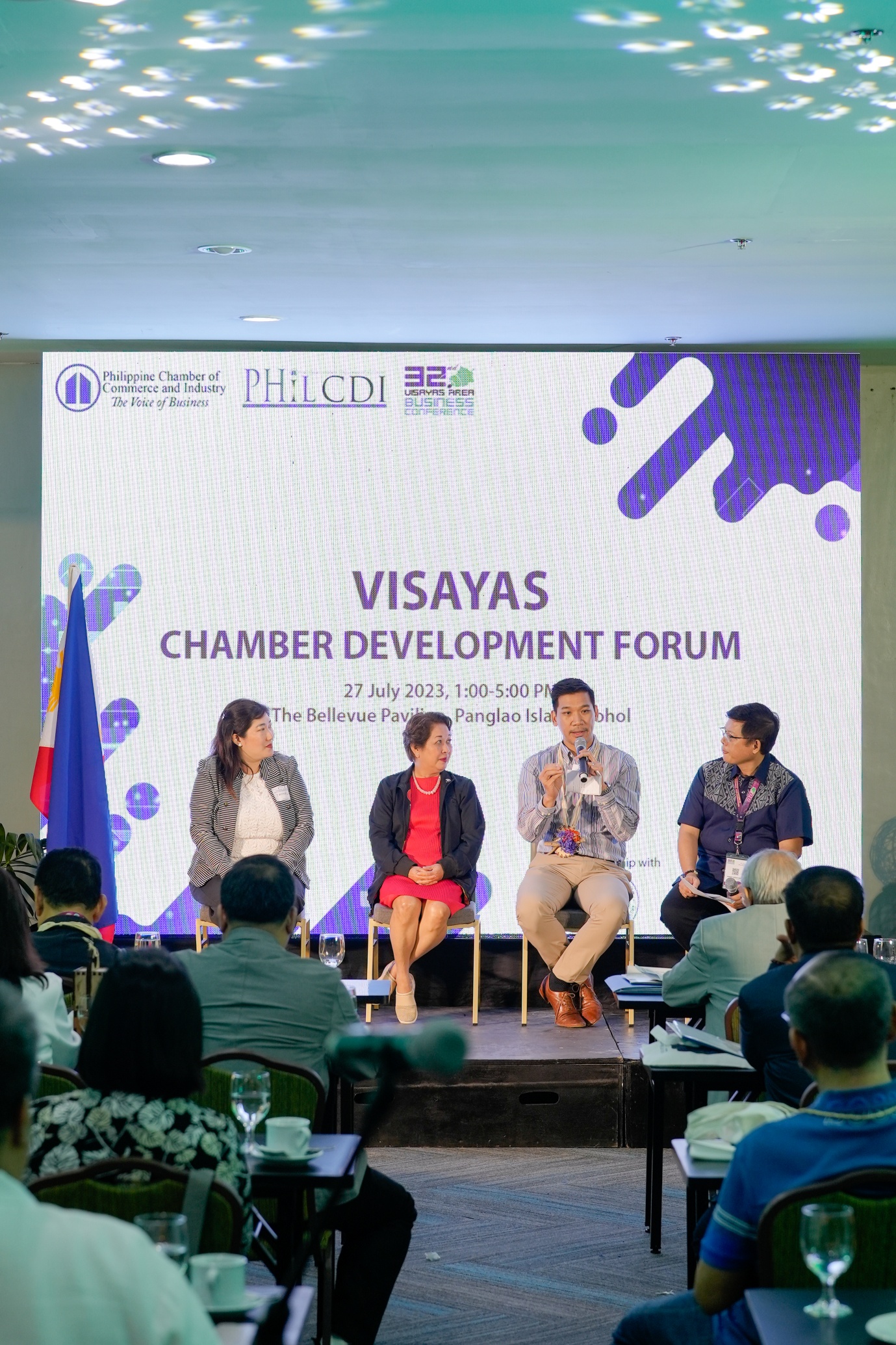 The event brought together an impressive array of influential figures from the public and private sectors, uniting industry titans, distinguished government officials, policy shapers, prominent media voices, and more. This dynamic amalgamation of thought leaders fostered dynamic discussions and collaborative knowledge-sharing sessions, pivotal for holistic regional growth.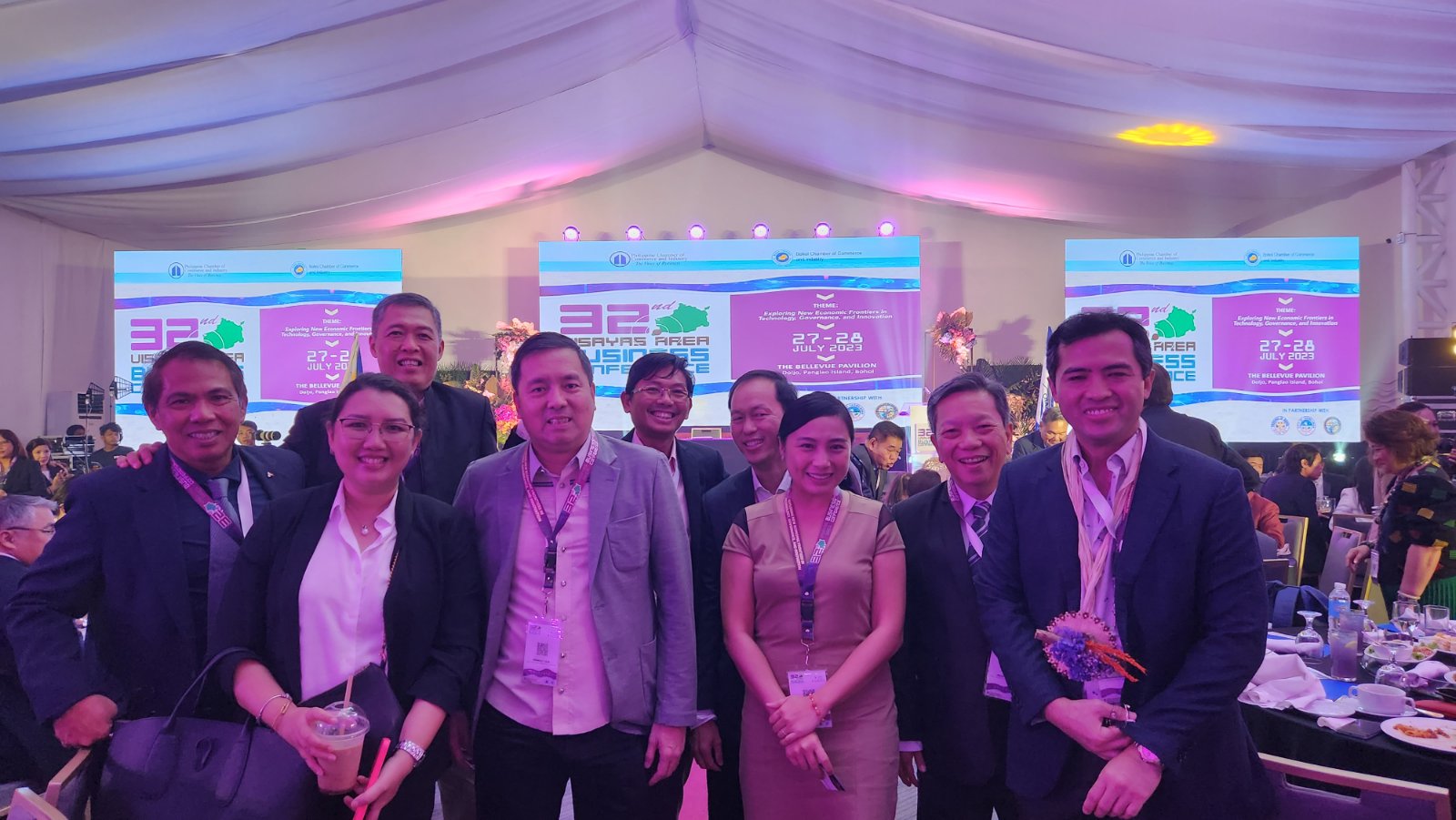 CCCI Delegates with Hon. Shalimar Tamano, DOT Undersecretary and Regional Director for DOT 7
CCCI's role as a catalyst for knowledge dissemination and collaboration was prominently evident through its contribution to championing various chamber's best practices, as presented by its Executive Director Emeritus, May Elizabeth Ybañez, during the Chamber Development Forum.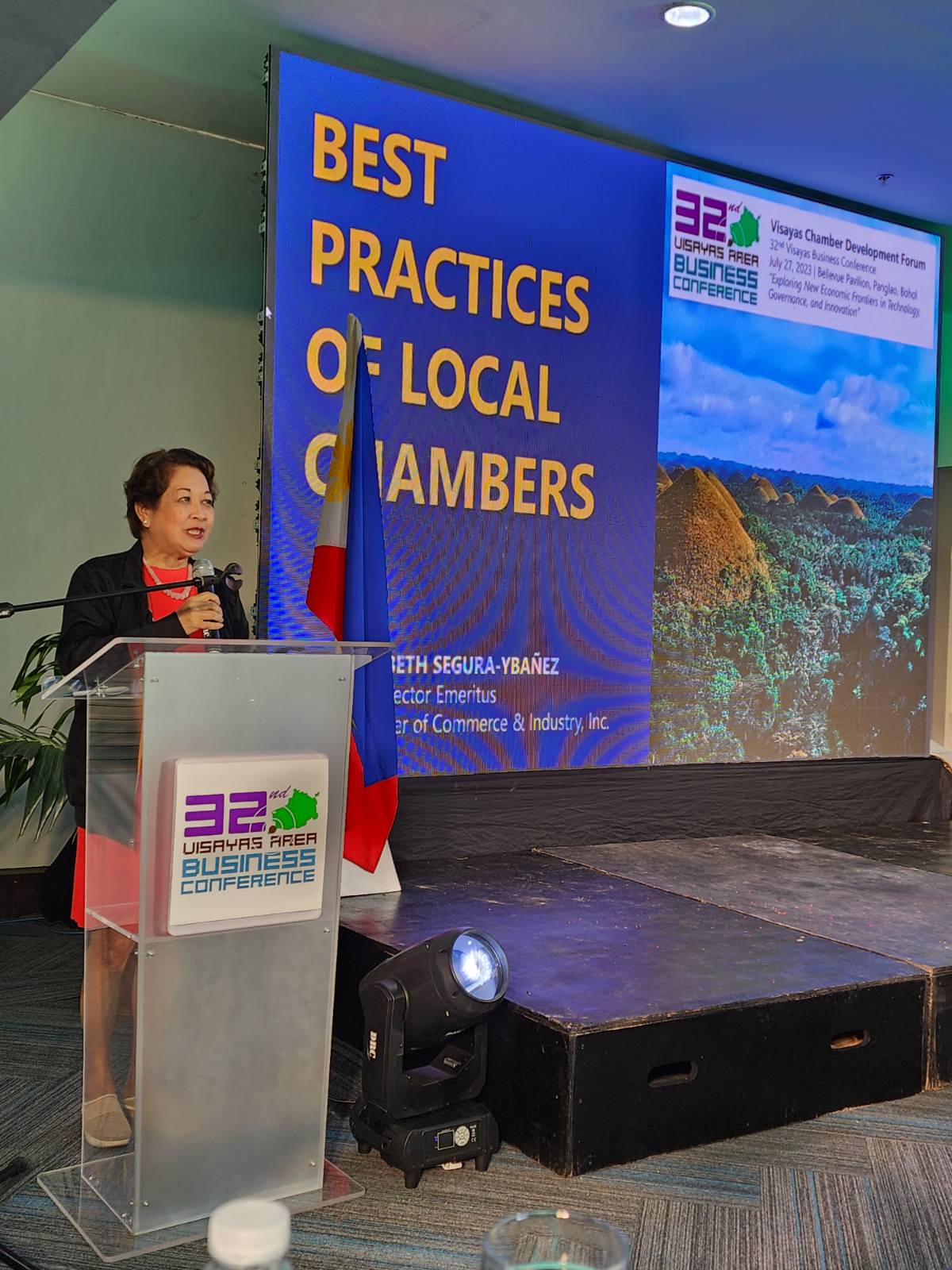 Fostering a Culture of Collaboration and Knowledge Sharing: Local CCI's Remarkable Impact Highlighted at the Chamber Development Forum by Executive Director Emeritus, May Elizabeth Ybañez.
A significant highlight of the 32nd VABC was its focus on enhancing enterprise competitiveness through digitalization. As a forward-thinking organization, CCCI recognizes the indispensable role of digital technologies in modern business operations. The chamber's active role in advocating for the adoption of digital solutions and its emphasis on innovation as a vital tool for remaining competitive demonstrate its relevance as a driver of digital transformation in the region.
The discussions also emphasized the role of capital formation and comprehensive support mechanisms in enabling SMEs and start-ups to flourish. Recognizing SMEs as crucial growth drivers and job creators, CCCI actively emphasized the importance of capital formation and comprehensive support mechanisms.
Enlightening discussions on sustainable tourism and the region's energy prospects threw light on the intricate equilibrium between economic expansion and ecological conservation. Proposed measures for energy sustainability and emissions reduction presented by Senator Sherwin Gatchalian underscored a robust commitment to conscientious development practices.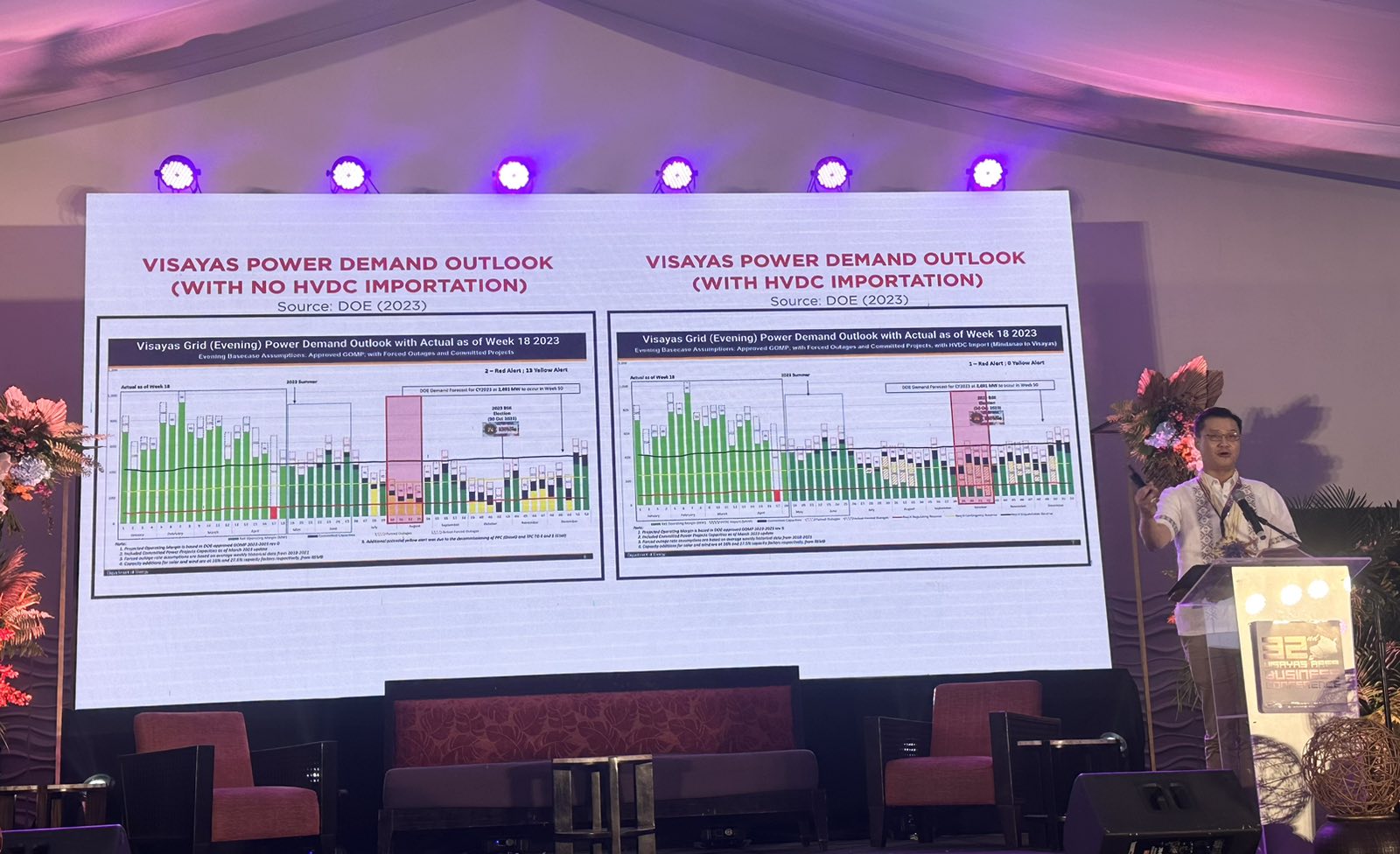 Senator Sherwin Gatchalian unveils Visayas power supply outlook and proposed measures to ensure power supply and reliability
As an advocate for regional progress, CCCI continues to actively participate in deliberations that explored the equilibrium between economic growth, environmental responsibility, and sustainable energy future for the region underscoring its role as a conscientious stakeholder invested in the long-term well-being of the Visayas region.
The Mayor's Night and Governor's Night, two integral gatherings that followed the conference proper, provided an exclusive opportunity for participants to interact with local government officials. These fellowship nights celebrated the partnership between the private sector and local authorities, fostering an environment of open dialogue and cooperation.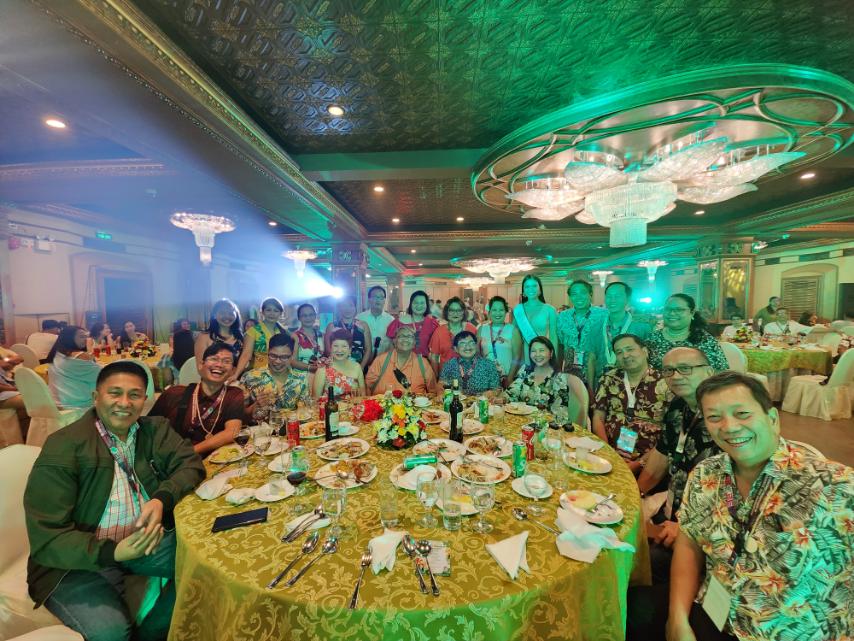 CCCI Delegates Embrace the Spirit of Unity, engages in vibrant conversations and camaraderie during the Mayor's Night
To learn more about CCCI, please visit our website and Facebook page or call us at (032) 232-1241 or send an email to info@cebuchamber.org