The Innovation and Technology Summit and Expo organized by the Cebu Chamber of Commerce Industry (CCCI) as part of the Cebu Business Months (CBM) 2023 has helped Cebu's business ecosystem prepare for AI-supported growth and success.
During the opening of the three-day IT for All event on August 17, 2023, Mr. John Paul Chiongbian, Overall CBM 2023 Chairman, emphasized the need for Cebu to prepare a workforce for technologies and frameworks that encourage artificial intelligence (AI) innovation and foster an ecosystem that supports AI-based startups.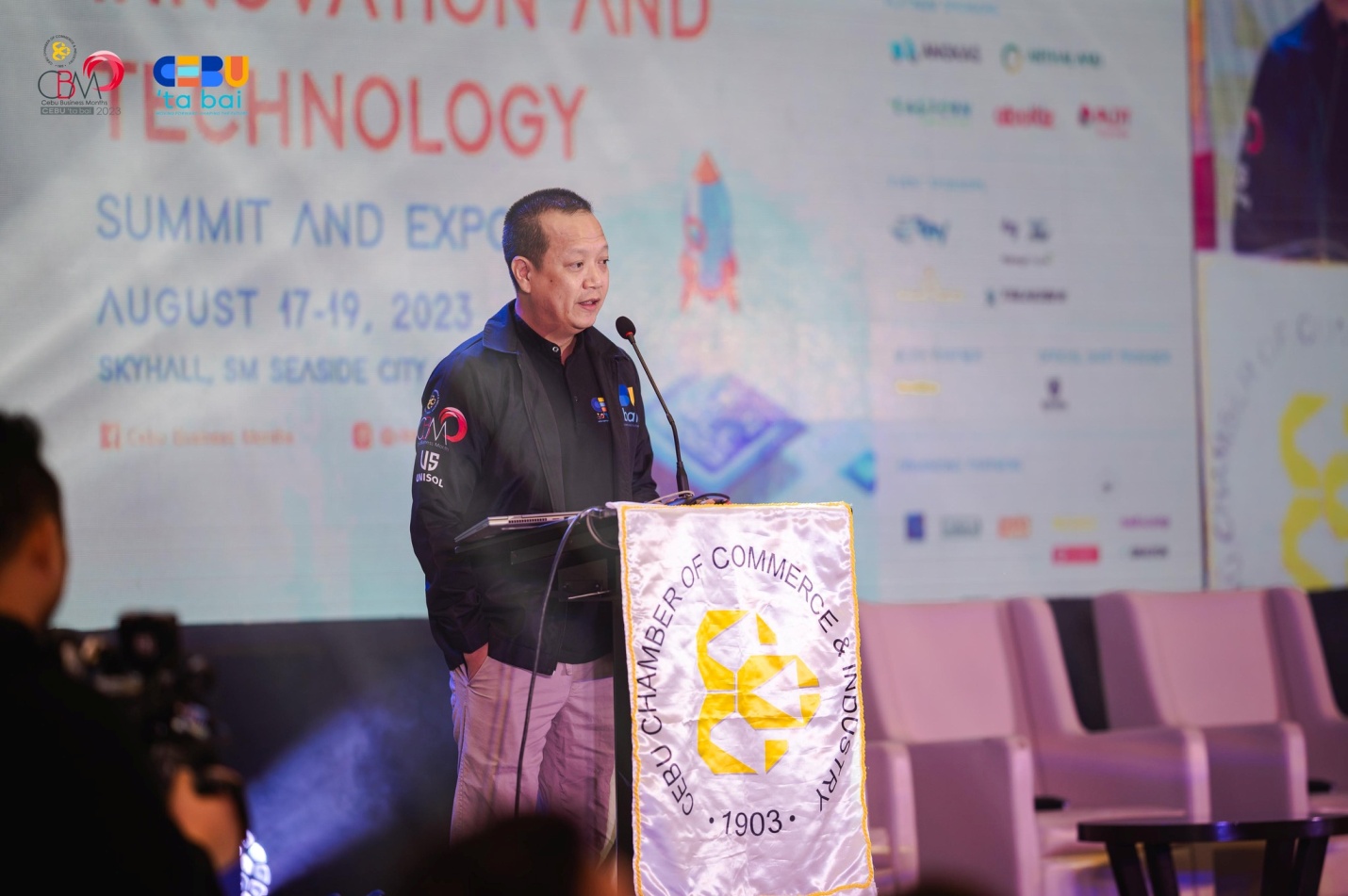 "As we embark on this year's CBM, let us reflect on our journey, and let's bank on the resilience we have displayed. Together, we will navigate this AI-driven world of technology and progress. Together, we will shape the future of Cebu," he told a large number of eager participants who filled the Sky Hall at SM Seaside City Cebu.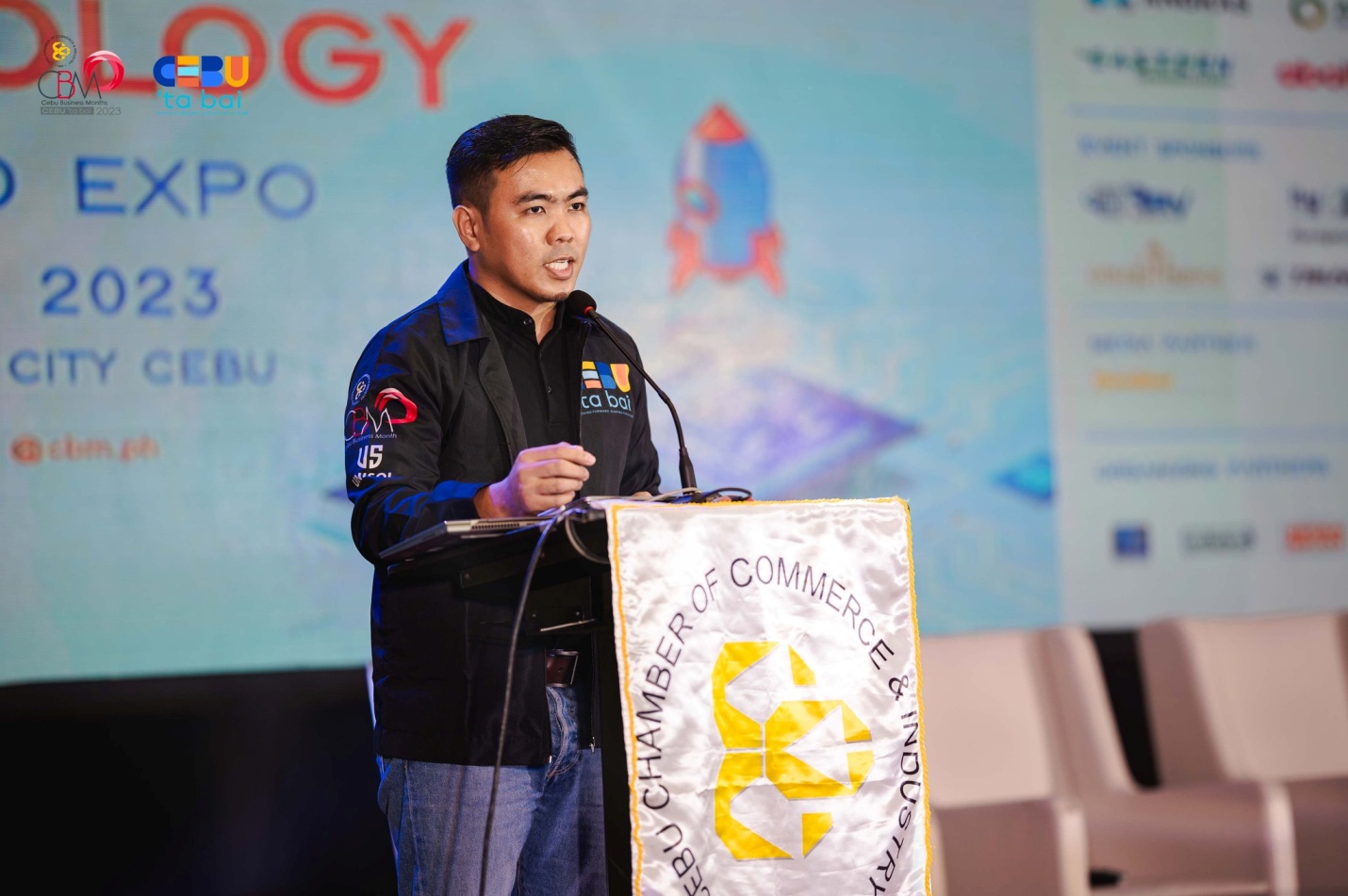 Mr. Ryan Tan Yu, CBM 2023 Technology Chairperson, added that the economic landscape is dynamically intertwined with tradition and innovation, making the role of information technology even more "pivotal" for individuals and businesses.
The Innovation and Technology Summit and Expo from August 17–19, 2023, is one of the highlights of the highly anticipated CBM 2023, CCCI's annual flagship event that carries the theme, "Cebu 'ta Bai! Moving Forward and Shaping the Future."
The summit featured an elite set of international and local speakers from various industries who shared insights on how AI can enhance one's way of life, transform business operations, support cybersecurity, strengthen logistics, improve marketing, foster innovation, and upskill the workforce, among others.
Day 1: Exploring AI's potential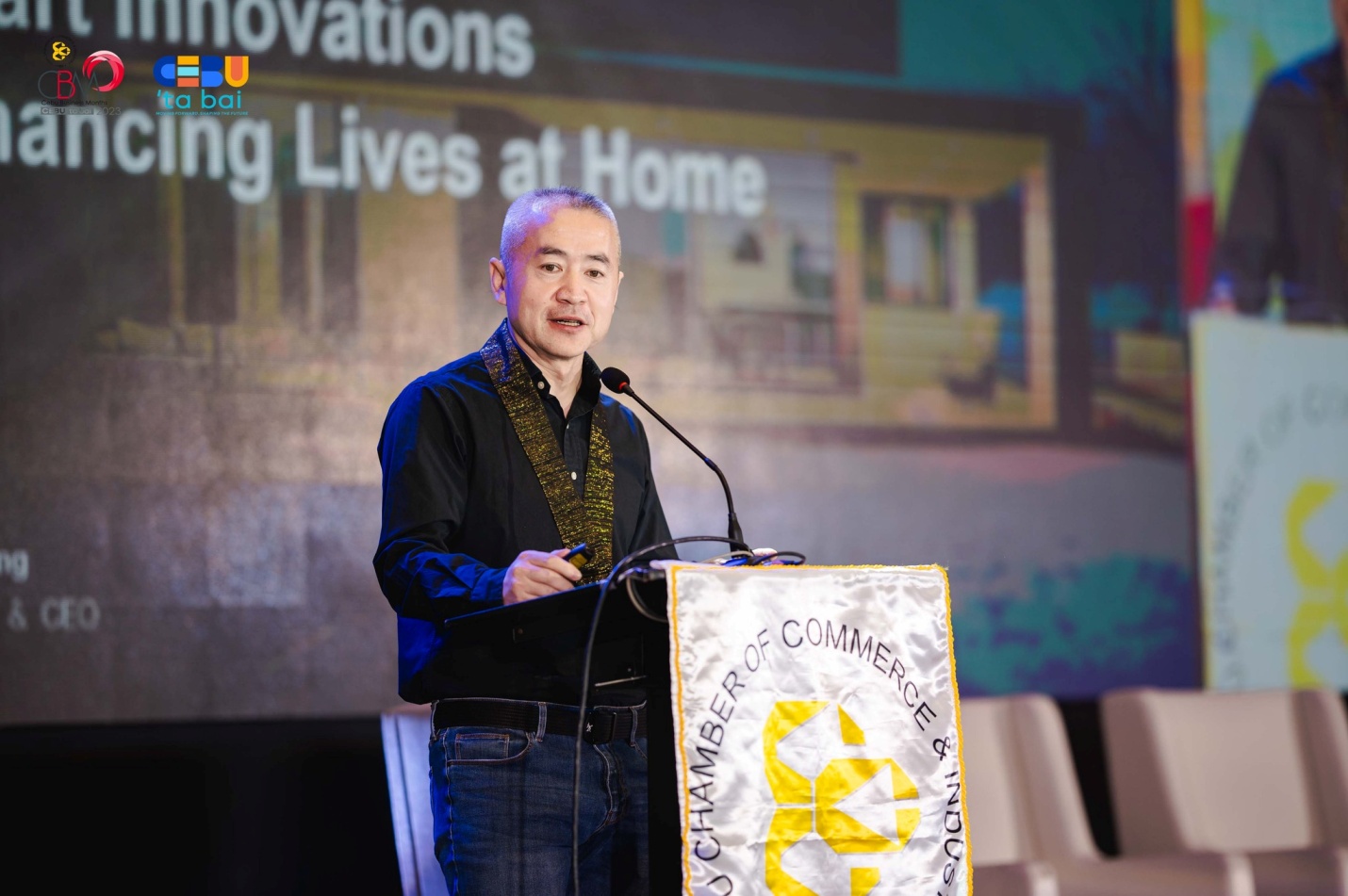 Mr. Denny Dong, Founder and Chief Executive Officer (CEO) of LifeSmart, shared building smart homes with the help of AI and the use of six interfaces—nature, voice, computer vision, multi-touch, physical buttons, and gestures.
"In the last three years, LifeSmart has done many products to build a structure of the digitized space. Now, this is just the beginning of the next thing. We still believe that in three years every single home will become a smart home, and we believe every new home in Cebu will be a smart home," he said.
In another session, Mr. Dong also spoke about LifeSmart's different software and applications, such as their Nature X Desktop Smartwatch. He emphasized that innovation must be human-centered or customer-centric for businesses to keep up in the industry.
Dr. Adrienne Heinrich, Head of AI and Innovation CoE at Aboitiz Data Innovation, discussed how AI can be applied as a useful tool across different sectors, especially those engaged in generating and arranging large data through AI optimization.
"I think the biggest key message in order to succeed in using AI is to use AI because there is a value that you will create for the user," she said, adding that a big component of change management will be critical in business decisions surrounding AI.
Mr. Eugene Paden, Chief Technology Officer (CTO) of Ray Business Technologies, emphasized that creating business value and instilling good leadership are the keys to successful human-centered digital transformation projects.
"We need people. Technology is always there—it's going to change and it's going to come . . . In digital transformation, who is being transformed? It's not the machines, but it's us (people). It's always us and ends with us," he explained.
Ms. Ann Cuisia, Founder and CEO of Traxion Tech Inc., noted that companies turn to AI to reinforce their cybersecurity and protect themselves against data breaches and cyberattacks, especially since the COVID-19 outbreak when companies were pushed to go digital. She introduced her company's AI software protection tool, Traxion Protech.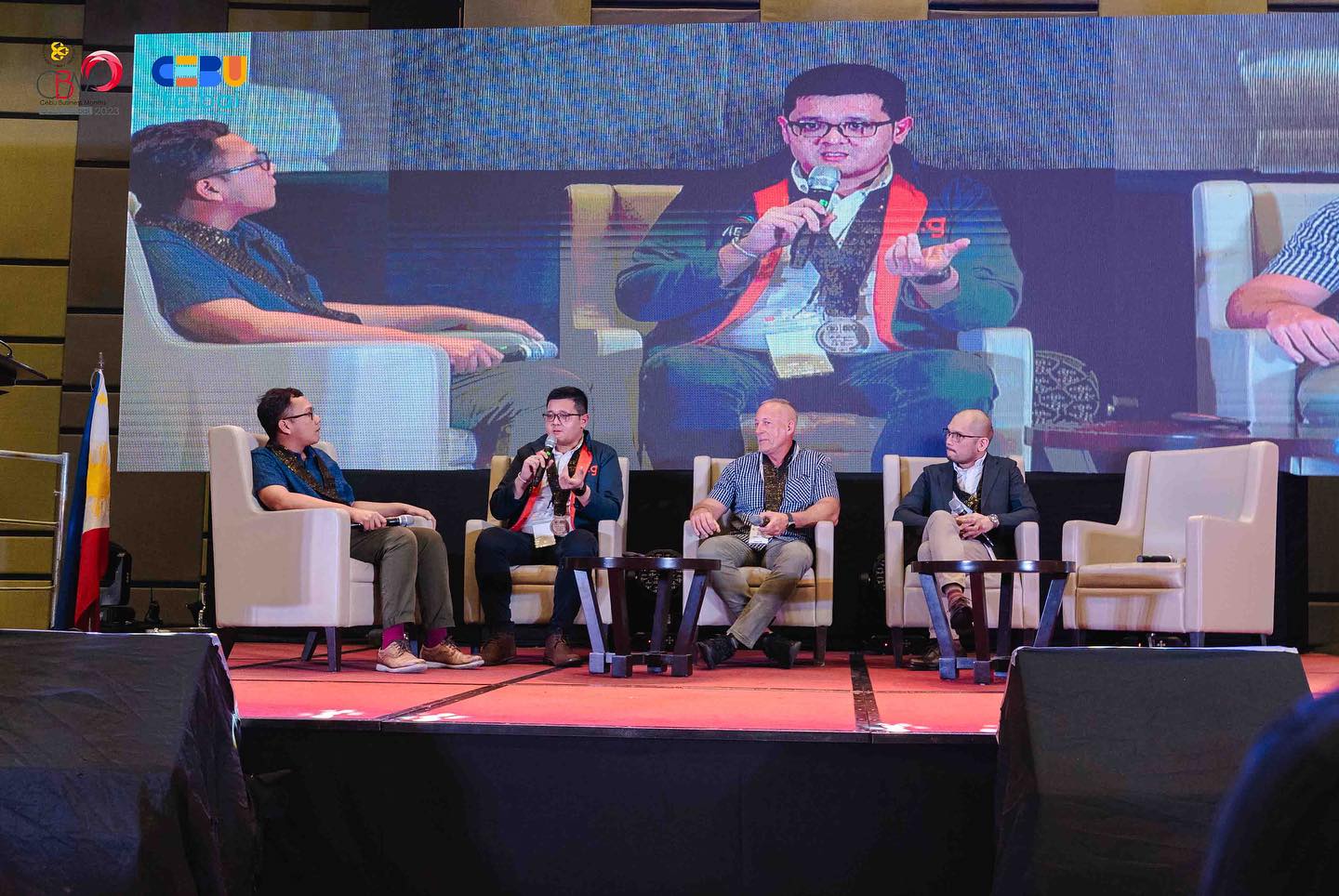 "AI, with its incredible capabilities, can be our strongest weapon against the ever-evolving tactics of cyber criminals. As business owners, you understand that your data is your most valuable asset. It is not just about protecting your operations but also maintaining the trust of your clients and partners," she stated.
Mr. Michael Sanchez, Pre-sales Consultant at IT Groups Inc. Asia, pointed out that a full understanding of how to maximize the use of AI-specific tools and train employees to use these tools can contribute to business success.
"The smallest [use of] technology can have a big impact—at least 20% difference when it comes to value . . . But do not apply technology or AI just because you want to apply it. You have to always check and do your study as well," he said.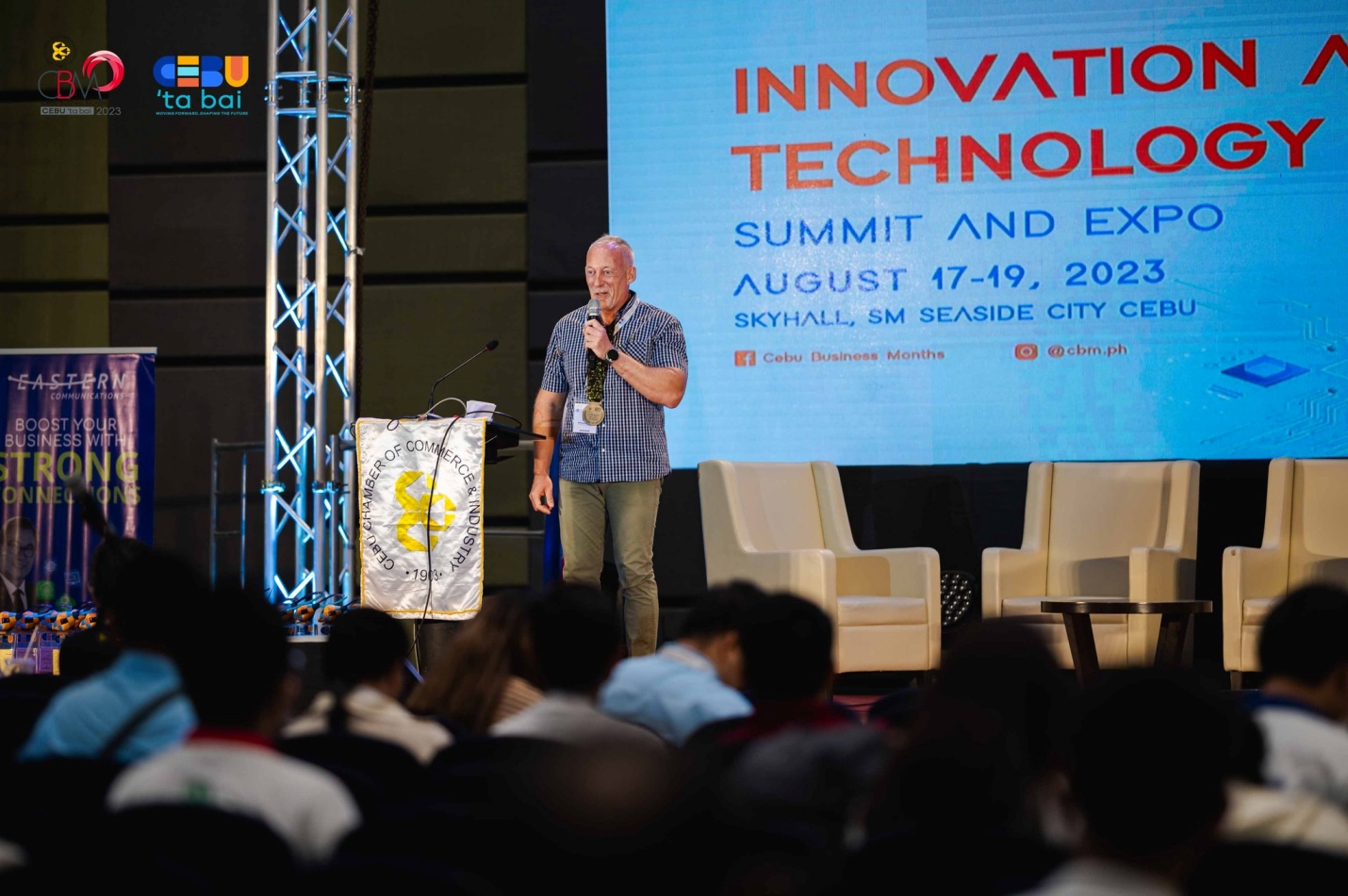 Engr. Nikolaus Stumpf, Project Manager at Big Blue Logistics. He presented the automation projects of his company that offers cold storage warehouses in Cebu. These projects include huge vending machines as operators, automated guided vehicles, and automated mobile robots. He also shared his experiences incorporating technology operations into the field of logistics in Cebu.
Mr. Gian Conde, Head of Enterprise Marketing at Eastern Communications, stressed the importance of a reliable connectivity provider in keeping a business alive and introduced his company's cloud tool, Eastern Cyber Defense, as useful against cyber intruders.
"More than ever, businesses cannot afford to be offline. Downtime means loss of business opportunities," he added.
Ms. Jivisha Agrawal, Territory Account Manager of Adobe Southeast Asia, shared insights on how Adobe bridges gaps in digital content creation. She said that for decades, Adobe has invested in AI and machine learning and has produced the best products that support individuals and businesses in their need to create visual content.
During the summit, she introduced her company's new application called Adobe Sensei, an AI and machine-learning Adobe application that helps users work faster and smarter.
Mr. Albert Padin, Co-Founder and CTO of Symph, shared the Symph AI Journey and presented several interesting tools and applications with the use of AI. He also shared the possibilities of creating AI apps with the use of another AI app, such as his company's ApGen, which has generated about 469 AI apps.
"What's next? To be honest, this is just the beginning. I'm so happy because finally, we can imagine together what's going to be next with AI," he said.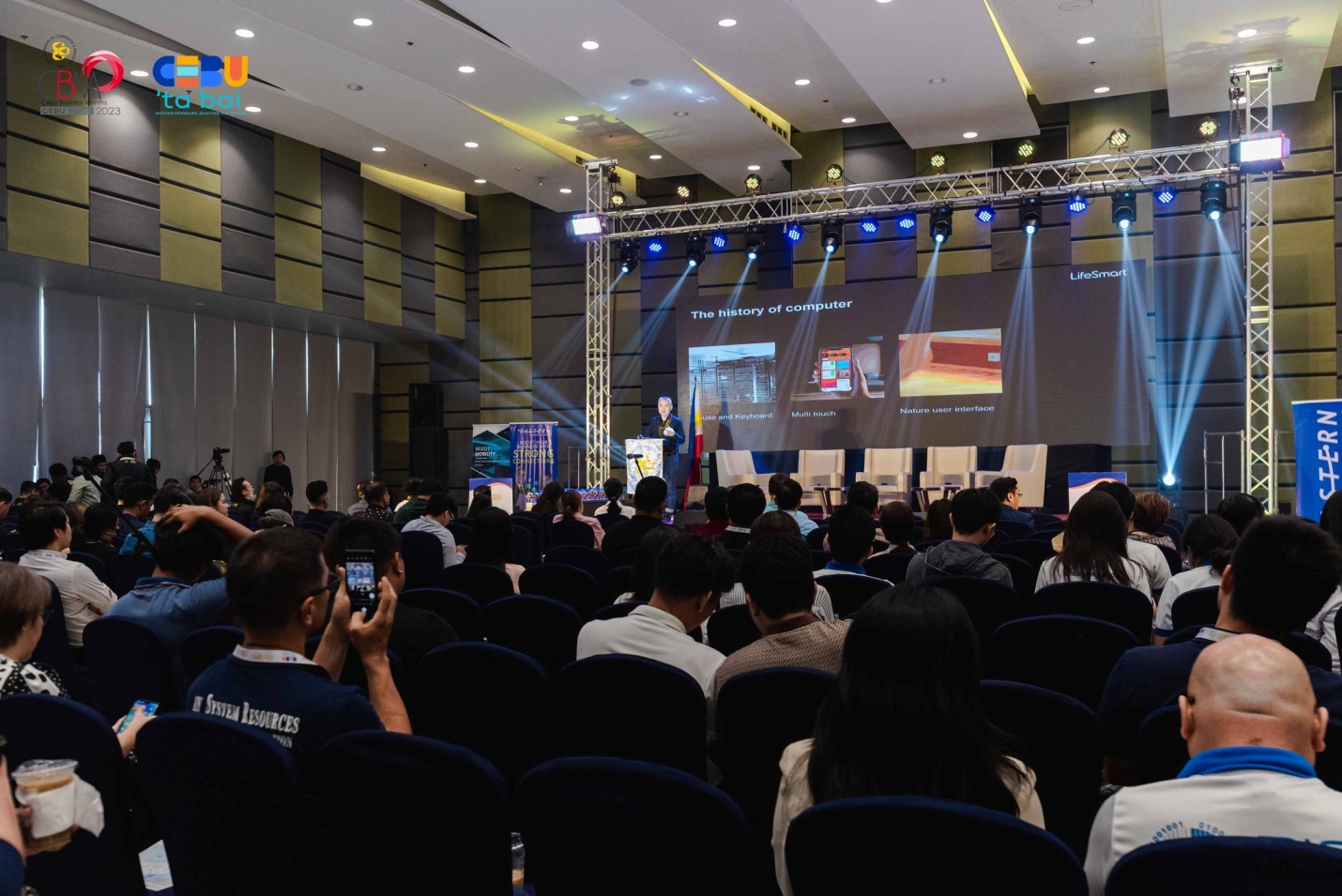 Mr. Xavier Puspus, Head of Data Science at Boom AI and an AI engineer, aims to teach learners about the basics of using AI without coding. He also presented the benefits companies will gain when they start incorporating AI into their businesses.
Mr. Garik Tate, Co-Founder of Valhalla, introduced a new perspective to the audience as he showed them the "hidden settings" behind the surface software of AI and delved further into the technical aspect of how AI works.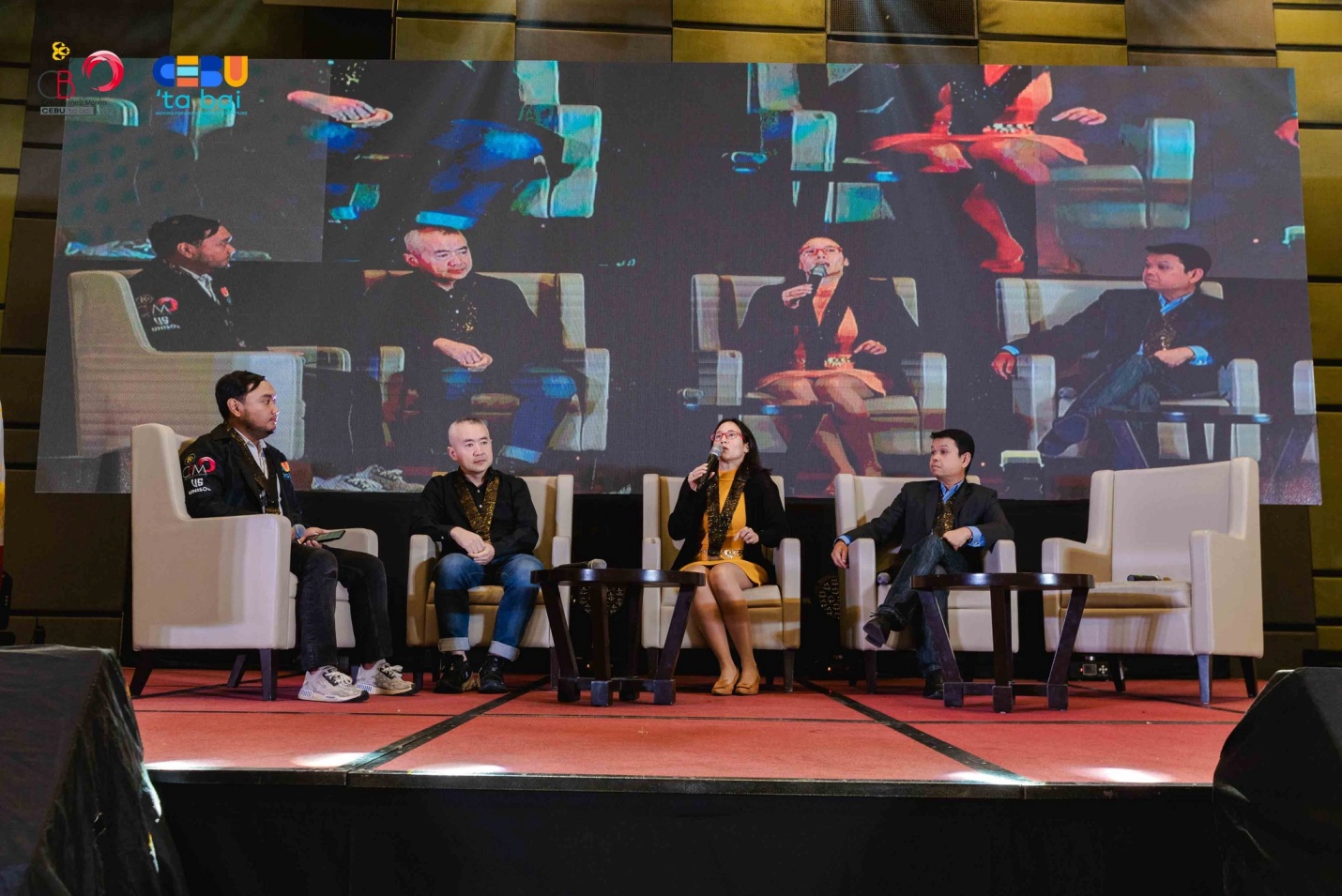 "The power here is to make AI an assistant that can work with you in your operations," he pointed out.
Ms. Charmaine Co, President of the Philippine Young Entrepreneurs Association, focused her discussion on digital technology and its potential impact on small and medium-sized enterprises (MSMEs). She identified security concerns, a lack of localized solutions, and regulatory complexity as some of the concerns that limit Philippine MSMEs' adoption of technology.
Day 2: Fostering Tech Entrepreneurship
Mr. Xavier Marzan, CEO and Managing Director of f(dev) Filinvest discussed his company's approach to innovation in the different areas of their organization, which involve optimizing existing operations and creating new businesses to address emerging opportunities in the Philippines.
"Our belief is that, here in the Philippines, there are still many infrastructure gaps that are very undershared, especially among our core middle markets, so we address these market opportunities and emerge with our own areas of opportunity within the group," he said.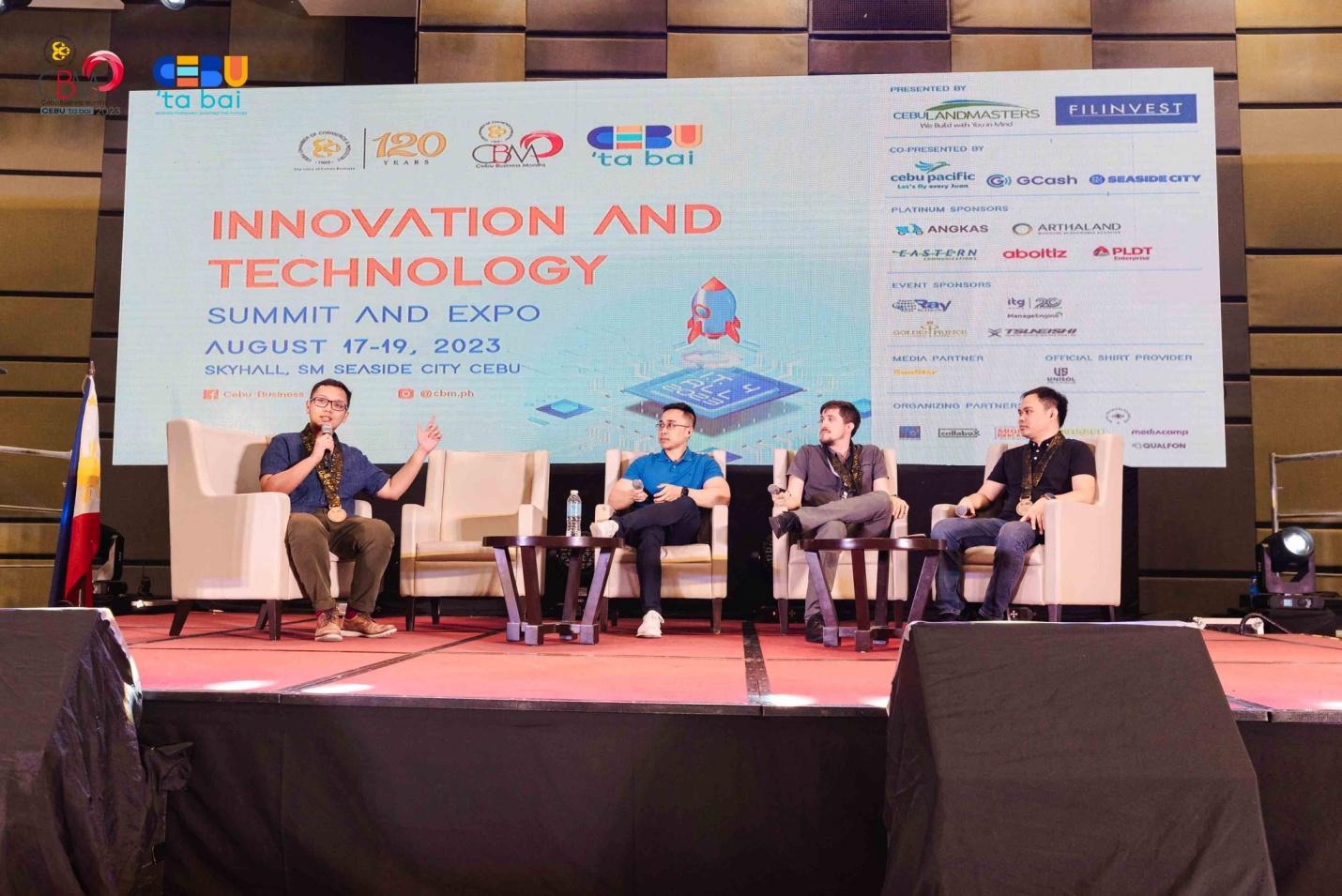 Mr. Earl Valencia, Founder of Plentina, focused on AI's potential to revolutionize the wealth management industry in the Philippines without disrupting it. His talk also covered the ethical dilemmas of using new technologies.
"As leaders, we have to think about how to prepare our workforce. Also, how do we think about partnerships in order for the rest of the members of the ecosystem to catch up, such as government institutions and businesses?" he stated.
Mr. Joel Santos, President and Co-Founder of Thames International and an educator with a passion for innovative teaching methodologies, talked about AI's potential as a productive tool in education. He expressed his company's hope to work with CCCI in upskilling businesses and startups while maximizing the use of AI.
Mr. Mohan Belani, Co-Founder and CEO of e27, explained how the technology ecosystem in Southeast Asia, including Cebu City, is experiencing remarkable growth and development due to a blend of supportive infrastructure, optimistic perspectives on challenges, a concerted effort to transform challenges into opportunities, and a mindset focused on growth, innovation, and collaboration.
Mr. Walter Cang, Vice President of DOHE Cebu, introduced All Aboard!, a startup Cebu mixer aimed at catalyzing collaboration among enablers, the academe, and collaborators to fortify the local startup ecosystem.
He added that the framework, which involves monthly meetings, provides a platform for enablers to discuss strategies and share insights on how to enhance the startup landscape in Cebu.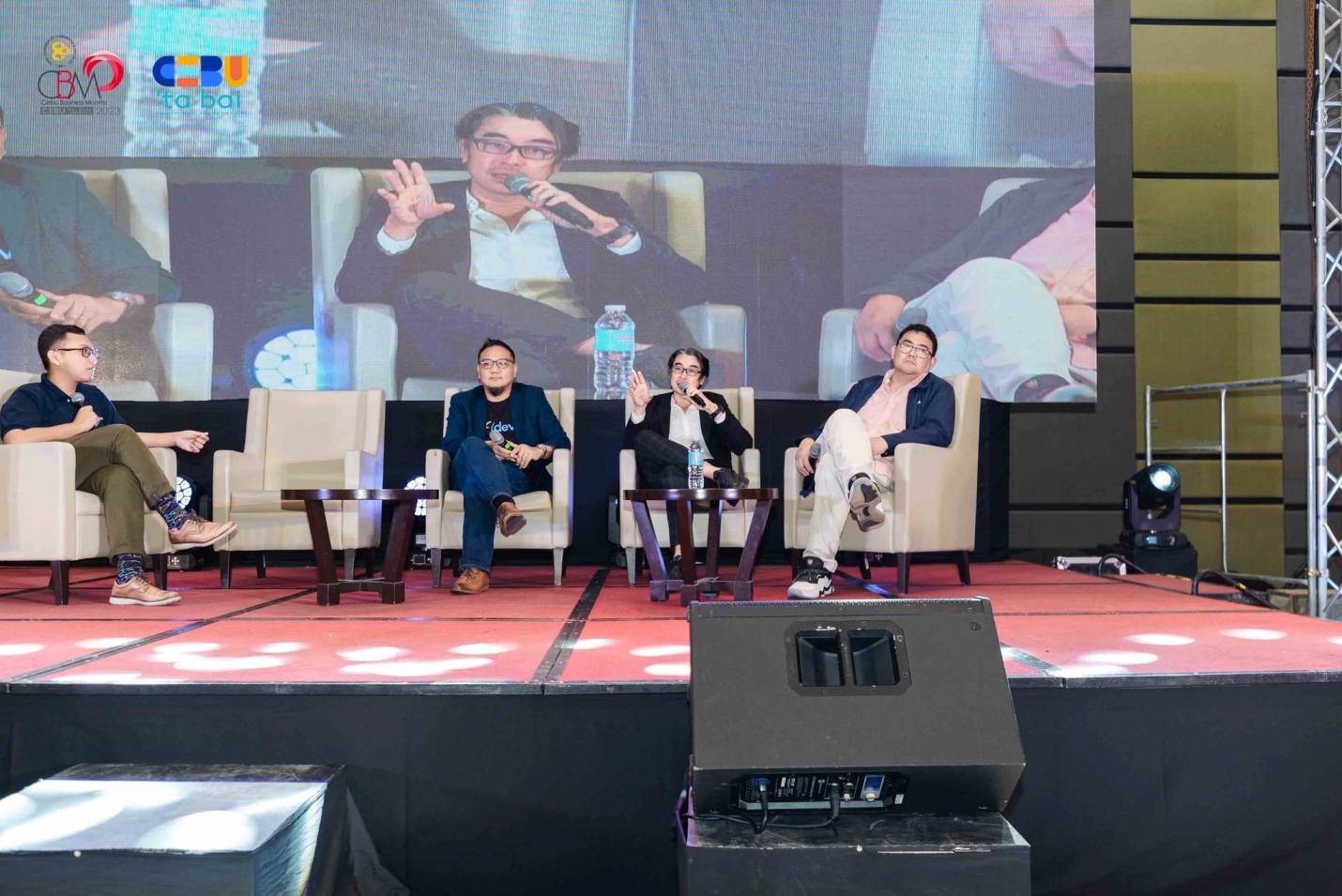 Ms. Russell Pili, Chief of the Research Information and Technology Transfer Division of the Department of Science and Technology (DOST) PCIEERD, oriented summit participants about Republic Act 1137, the Innovative Startup Act, which is designed to support startups in the country.
Mr. Brandon Leong, Business Unit Lead of Round One, emphasized the impact of crowdfunding and how web-based platforms change the game in the ecosystem. He also provided details on the idea of hyper-localization as he encouraged Filipino startups and businesses to invest in each other.
Mr. Jason Gaisano, Co-Founder and Partner of Core Capital, highlighted the positive path Philippines is taking as a booming tech ecosystem where tech-enabled companies level the playing field when it comes to linking talent and capital. He identified agricultural technology as the next possible trend to be popularized by the startup ecosystem.
During the first panel discussion, James Tan, Managing Partner at Quest Ventures, and Joseph de Leon, Founding Member of Manila Angels Investors Network, shared their keen interest as angel investors in technology-driven startups, recognizing the potential of innovation to lift industries and create substantial value.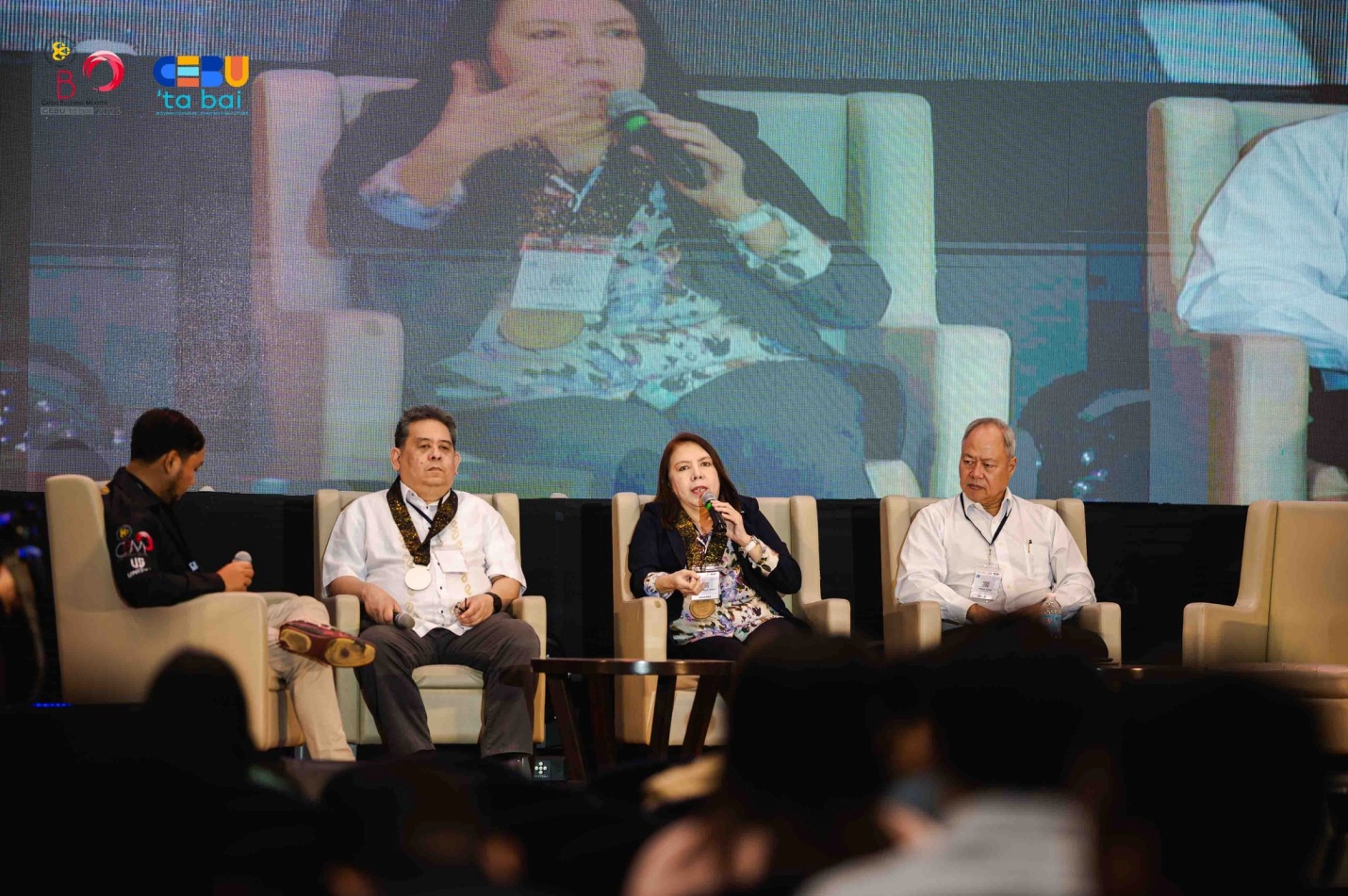 In the second panel discussion, Department of Trade and Industry 7 Regional Director Nannette Arbon, Department of Information and Communications Technology 7 Regional Director Frederick Amores, and Mr. Cang talked about the importance of healthy relationships with government agencies and the critical role of universities in the startup economy.
In the last panel discussion, Mr. Ben Alderson, Head of Investments at IdeaSpace Foundation, Mr. Jecky Pelaez, Legal and Compliance Director at Kickstart Ventures, and Mr. Gaisano emphasized the significance of business models and technology to help startups address problems such as those surrounding supply chains, agriculture, and pollution.
Day 3: Next Generation of Game Changers
Ms. Marianyl Orlain, Senior Data Analyst at Tsuneishi Technical Services Inc., explained the concept behind "data is our new oil," saying that data has become a valuable resource with the potential to drive innovation, economic growth, and transformation across various industries.
She added that data analytics can be a game changer for businesses when it comes to making strategic decisions.
Gabe Mercado, Co-Founder of Vivita Co., a library that creates programs to enhance youngsters' abilities to make prototypes and turn ideas into tangible inventions. He explained that his company's mission revolves around empowering youth to become future innovators and founders.
They achieve this by organizing hands-on workshops, fostering curiosity, embracing experimentation, providing rapid prototyping tools, and supporting young entrepreneurs through their startup incubation program.
Mr. Gener Jimenez, Technical Consultant of IT Group Inc. Asia, talked about how his company integrates its AI-powered ManageEngine to enhance the business industry's information technology (IT) tools and cybersecurity.
"We have achieved a competitive edge with our AI-based solutions. Now, the main factor of IT is service management. If there's an issue, who are you going to call? IT. A paper jam? IT. I cannot attach a file to my email? IT. IT is doing more tasks deploying AI-based chatbots," he explained.
Ms. Macy Castillo, Co-Founder and CEO of Enstack, presented her company's solution for SMEs, offering them a comprehensive suite of operational, logistical, and financial resources all consolidated within a unified platform.
The day's panel discussion featured Mr. Mercado, Mr. Paden of Ray Business Technologies, Greg Gabison, Country Manager at Raybiztech, and Mr. Padin of Symph, who tackled strategies for honing young minds to become future leaders, entrepreneurs, and business-minded individuals.
Hyundai IONIQ 5 and other Hyundai products were featured during the Tech Spotlight segment of the summit.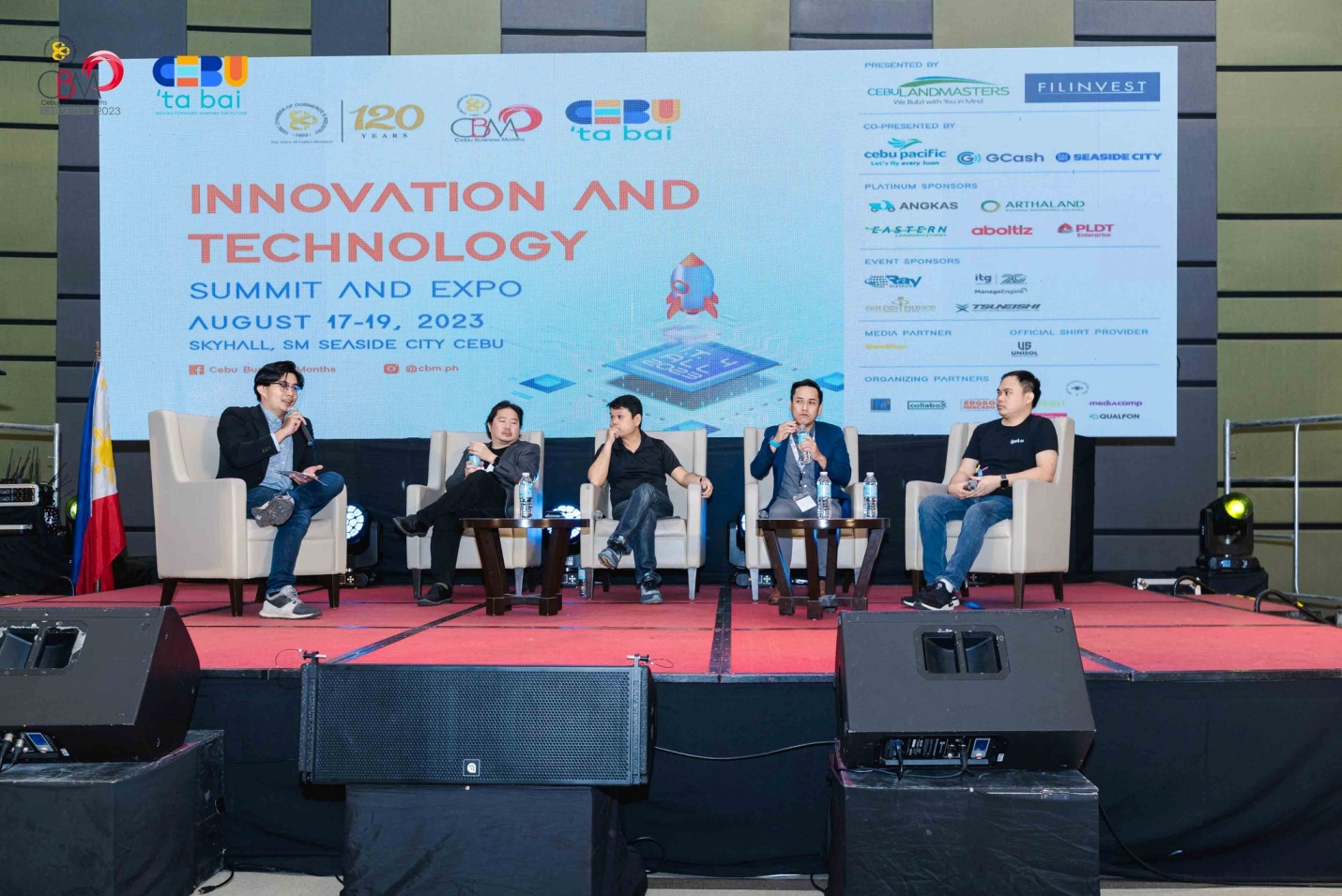 The summit dedicated a productive Networking Hour for participants to huddle and share their experiences with other startups and businesses, and network with investors.
Lastly, it also provided time for startups to present their solutions during the #StartupCebu Showcase segment.
Engr. Norman Curato, Co-Founder and CEO of XELEQT AI, showed his company's business-to-employee platform with Internet of Things integration, designed to assess, incentivize, and document the effectiveness of employee performance.
Mr. Ryan Michael Gelig, Founder and CEO of SugboDoc, explained how their digital system is revolutionizing healthcare by offering online solutions for doctors, clinics, hospitals, and patients.
Ms. Kathea Mari Mayol, CEO of FitIn, launched a startup venture that offers a unique shopping experience featuring cutting-edge 3D graphics and an innovative mix-and-match algorithm.
Ms. Charlene Virlouvet, Chief of Staff at DashoContent, presented how their B2B AI-powered content platform generates content and marketing ideas for entrepreneurs and emerging brands.
Mr. Johnrey Jordan, Founder and CEO of Laundrive, presented his company, a dedicated laundry service for people who live in condominiums, apartments, boarding houses, and subdivisions in Metro Cebu.